Howard University's setter Tamia Dockery (Navajo) Took Home Her 4th MEAC Setter of the Week Award this Season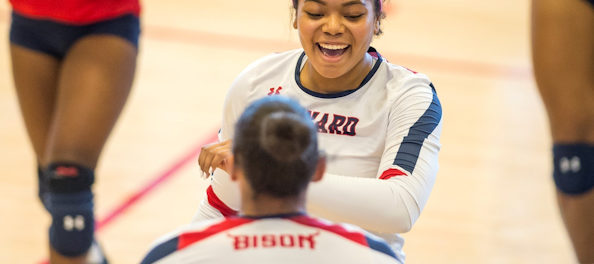 NORFOLK, Va.  – The Mid-Eastern Athletic Conference (MEAC) announced its volleyball weekly honors where Howard University's junior setter Tamia Dockery (Navajo) took home her fourth MEAC Setter of the Week award this season. The announcement came today.
The Texas native averaged a double-double in the victories over Bethune-Cookman (B-CU) and Coppin State (CSU), posting 36.5 assists per set & 12.5 digs per set. Dockery racked up 46 assists, 17 digs, four total blocks and four kills in the four-set win over the Wildcats. Sunday, she recorded 27 assists, eight digs, and two kills versus the Eagles.
Friday, the Bison conclude its five-match home stretch with Maryland Eastern Shore, followed by a road contest at Delaware State Sunday.
Friday night's showdown for first-place starts 7 p.m. while Sunday afternoon's conference match begins 3 p.m.