Hayleight Galvan (Cherokee) hits 1st Career Home Run for OSU to force Extra Innings on Texas; Cowgirls would complete 3-game Sweep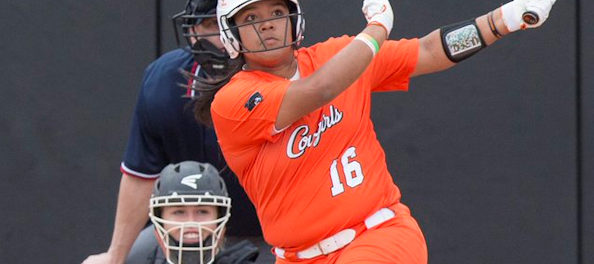 STILLWATER, Okla. —- Oklahoma State's Vanessa Shippy delivered an RBI single in the bottom of the eighth Sunday to give OSU a 10-9 win over Texas at Cowgirl Stadium. The win gave the Cowgirls their first three-game series sweep of Texas.
Shippy was clutch at the plate throughout the game, going 4-for-5 with a game-high five RBIs. Shippy also produced with three runs scored.
This is the best start to conference play for OSU since the Cowgirls started 3-0 in 2010. This is OSU's third conference series win since 2012, with all three coming under head coach Kenny Gajewski.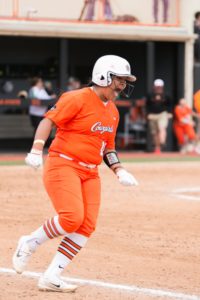 Oklahoma State scored five runs in the bottom of the seventh, capped of with Hayleigh Galvan's (Cherokee Nation) first career home run to tie the game at 8-8 and force extra innings. Shippy's eventual walk-off hit in the bottom of the eighth sealed the comeback victory.
"Anytime you can start conference play off with a series win and a sweep, it'll be very successful for us," said Gajewski. "Like I told our kids, enjoy this but this just builds and makes games even larger. I'm excited for them. I'm excited for the way they fought and competed and just hung on, it felt really good. When we got the game tied, I didn't think there was any way that we could lose. It just goes to show how hard these kids have worked and seeing the new barriers that they are breaking down. It's fun."
The Cowgirls (22-11 Overall, 3-0 Big 12) started well again thanks to Shippy's two-run home run to center field to score Taylor Lynch and give OSU an early 2-0 lead in the first inning.
Texas (17-14, 0-3) responded in the top of the third with four runs to take its first lead of the series at 4-2. The Longhorns later extended its lead to 8-2 with four more runs in the top of the sixth.
OSU wouldn't lose hope as it cut the deficit to 8-3 in the bottom of the sixth with Kristin Reasnor's single to right field to bring home Shippy.
Shippy, Reasnor and Galvan had RBI hits in the bottom of the seventh to send the game to extra innings.
Alongside Shippy and Galvan, Randee O'Donnell also shined at the plate going 2-for-3 with two runs scored. As a team the Cowgirls had their best offense output of the series with 10 runs on 11 hits and nine RBIs.
"I was leaning on the Lord the entire time that entire game," Shippy said. "I struggled at the plate the past two games, its been obvious and He got me through that. We just put together good at-bats and hitting is contagious. Our team wanted that and it was obvious. Our fans wanted that. I really give credit to that fans this whole weekend. I mean they were loud, they were interactive with us and that all we can ask for is to go out and win for them.
Christina Biggerstaff (3-0) earned the victory in the circle. She went 2.1 innings and allowed a run on four hits.