Lovie Lopez (Wintu Tribe) hits her fifth double of the season as Oregon State Beavers fall to ASU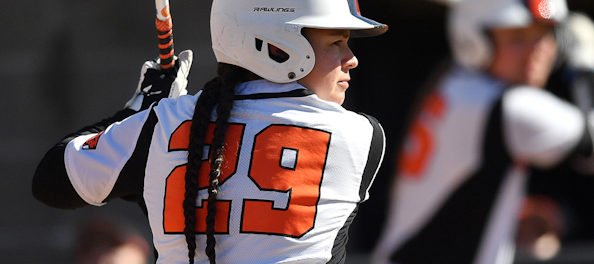 TEMPE, Ariz. – The Oregon State softball team looked to put a mark in the win column, but shy bats downed the Beavers, 11-0 in the second game of the series against No. 21/24 Arizona State Sunday night. The Sun Devils used the long ball again, hitting five home runs including blasting a walk-off grand slam in the fifth inning.
The Sun Devils started the scoring in the first inning, after hitting back-to-back home runs gave them an early 4-0 lead.
Oregon State looked to get on the board in the third frame after loading the bases with two outs, but could not produce any runs.
Arizona State added to its lead in the bottom of the inning after hitting a pair of solo home runs increased its lead to 6-0.
Lovie Lopez (Wintu Tribe) gave the Beavs their third hit of the game in the fourth after doubling down the right-field line, but she would stay on second.
ASU added an insurance run in the fourth after a single allowed another run. The Sun Devils loaded the bases in the fifth inning with two outs and hit their ninth home run of the series with a walk-off grand slam.
The Beavers recorded four hits highlighted by Lovie Lopez hitting her fifth double of the season.
Nerissa Eason started the game and was given the loss after facing five batters in the first inning giving up four runs. Taylor Cotton came in and hurled the remaining 4 1/3 innings, striking out six batters.
Oregon State (15-13, 0-5 Pac-12) will finish the series tomorrow afternoon with the first pitch slated for 1 p.m.