Kansas City Chiefs Honor Native American Heritage Month During NY Jets Game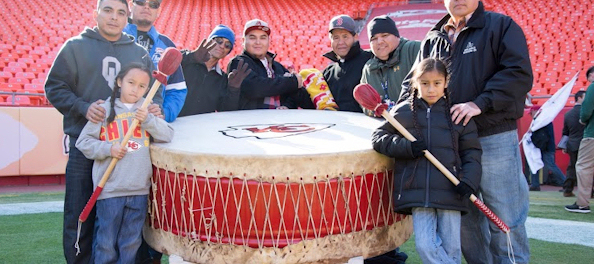 Arrowhead Stadium Hosts Native American Celebration at the Chiefs vs New York Jets Matchup
By Tyler Jones @TylerJonesLive
KANSAS CITY- In a time where the honor and respect of Native Americans is in question, the Kansas City Chiefs  showed where they stand. The NFL franchise played host to a special celebration of Native American Heritage on Sunday, as a part of Native American Heritage Month. The American Indian Center of the Great Plains (AICGP), located in Kansas City,  would partner with the Chiefs to put on the celebration before and during the Chiefs versus the New York Jets game.
Tribes from around the nation were represented. The tribes included the Peoria, Iowa Tribe of Kansas and Nebraska, Cheyenne-Arapaho, Northern Arapaho, Citizen Potawatomi, Delaware, Wyandotte, Kickapoo Tribe of Kansas, Prairie Band Potawatomi Nation and the Chickasaw Nation.
On Sunday, many Native American tribes brought representatives to showcase their tribe in front of over 76,000 fans in Kansas City. Jon Boursaw a District Executive of the Citizen Potawatomi Tribe said, "I feel appreciated by the Chiefs organization. This is great exposure for our tribe and the other Native American tribes. Kansas City back-up QB Tyler Bray is a member for our tribe and he gives our younger generation an athlete to lookup to."
Longtime Chiefs fans from Overland Park, Kansas, Dee & Annette Ketchum represented the Delaware Tribe. Dee went to college at the University of Kansas with Former Kansas City Chiefs Fullback Curtis McClinton. Dee, the former Chief of the Delaware Tribe, went said, "We feel embraced. The Chiefs have done a great job bringing recognition to American Indian Heritage Month and our tribe." Dee's wife Annette, a member of the Delaware Tribe's council said, "Sports teams bring honor to Native Americans. Any team can use Native American names. We do not oppose it at all."
The Native American Tribes throughout the game performed many native traditions. The day began with a flag song, drum ceremony and blessing song by the Southern Cheyenne of Oklahoma and Arapaho Tribes. Throughout the game, the Native American groups continued to be honored. It was a moving day.
On the field, the Chiefs dominated with 24-10 win over the New York Jets. Kansas City's next matchup will be November 9th at the Buffalo Bills, while Jets will take on the Pittsburgh Steelers in New York on the same day.
For the rest of the month, the American Indian Center of the Great Plains (AICGP) will continue it's observance of American Indian Heritage Month. Their mission is to create an awareness and understanding of issues affecting Native people.
(Tyler Jones is a student at Haskell Indian Nations University and a member of the student Indian Leader newspaper staff. He is a member of the Choctaw Nation of Oklahoma and is currently majoring in TV production at Haskell, where he hopes to eventually get his graduate degree in Broadcast Journalism. Reid Williams is also a Freshman at Haskell Indian Nations University and a photographer for the student Indian Leader newspaper. He is a member of the Cherokee Nation and is from Grove, Oklahoma. He is a double major at Haskell and plans to get his Masters degree in administration after graduating)