Haskell Indian Nations University's Keli Warrior (Ponca Tribe) closing in on the schools scoring record in her final season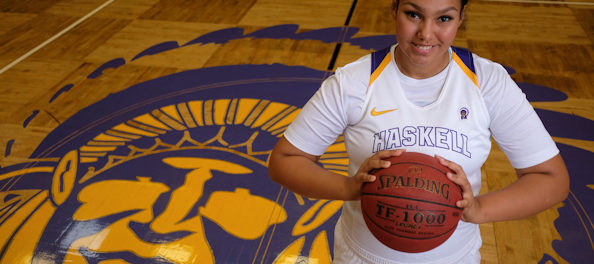 (Lawrence, Kansas) – With the 2017-2018 season underway for the Haskell Indian Nations University women's basketball program, standout player Keli Warrior (Ponca tribe) is closing out her final season as one of the most decorated players for the Lady Indians basketball squad. She is also closing in on the schools women's scoring record that currently sets at 1,425 points and is held by Maria (Stevens) Parker.
As a freshman, Keli was named the MCAC Conference Freshman of the year and named to the MCAC conference first team as well, she also scored over 500 points in her first season. Returning as a sophomore, Keli again was named to the MCAC All-Conference team and after a move to a new conference (Association of Independent Institutions), Keli helped lead the women's basketball program to it's first ever NAIA Conference Championship while being named to the all tournament team. The Indians squad returned to the NAIA national tournament for the first time since current leading scorer Parker led her team in 2010.
When the 6-foot-1 freshman first stepped on campus, earning the most accolades and breaking records was something furthest from her mind, Warrior said, "I was unaware of what I was capable of when I came in as a freshmen. All I knew at that time was I just wanted to play some basketball and have fun on the court with my team."
After a year off this past season to enjoy motherhood, Keli is back on the court this season chasing a record she hopes she can get. " Yes, I think about every game all the time. I really hope I'll break it. It's one of my goals I plan on reaching." said Warrior.
As of this writing, she currently stands at 1,282 career points with only 144 more points to go to break the record. She is also averaging 17 points per game so far this season and currently ranks No. 3 in the nation for the NAIA in total scoring (141).
Whether she gets the record or not, her career at Haskell has been one of the most successful since the school transitioned to the NAIA in the early 2000's.
When asked about what has contributed to her success, Keli said, "My family has had the most influential impact on my success. They've absolutely supported me throughout my entire career. Especially after I had my daughter Logan this past year. I wasn't sure if I wanted to come back and play. My mentality was it's time to grow up and life isn't about basketball anymore. But my parents and aunties gave me a different perspective and told me to think about the example I would set for my daughter. So I decided to come back and my play my last year for her."
A decision that will have an lasting impact not just on the Haskell women's basketball program but for Warrior and her daughter as well.