Tamia Dockery (Navajo) named to Mid-Eastern Athletic Conference (MEAC) Second Team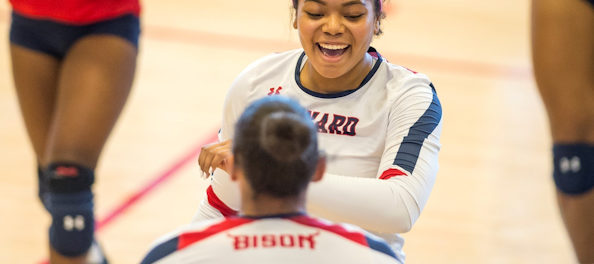 NORFOLK, Va. – The Mid-Eastern Athletic Conference (MEAC) announced its postseason honors where Howard University's sjunior Tamia Dockery (Navajo) was honored for her outstanding season.
All awards were voted on by the conference's head coaches and sports information directors.
This season, Dockery was among the top setters in the league after winning the weekly award four times on the year. In conference play, she was rank among the leaders in assists per set. Furthermore, the Texas native led HU in total assists and digs. She was named to the MEAC All-Conference second team.
Florida A&M's Candelaria Herrera was named MEAC Rookie of the Year while Toby Rens of Maryland Eastern Shore earned the conference's Coach of the Year honors.
To view the entire 2017 MEAC Volleyball All-Conference Teams, please Click Here.
HU goes to Princess Anne, Md. in search for their third straight conference title. No. 2 Howard opens tourney play against No. 3 North Carolina A&T State. First-serve at 7 p.m.