Washington State's Taylor Mims (Crow) led the match with 13 kills as Cougars Fall to Buffs in Colorado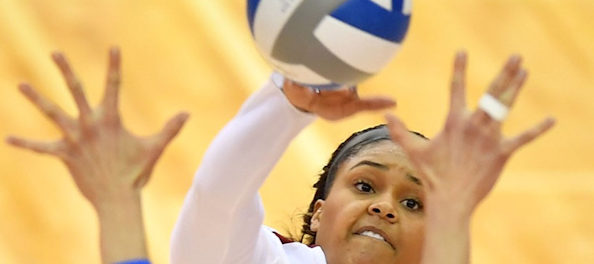 BOULDER, Colo. — The Washington State volleyball team (14-11 overall, 3-10 in Pac-12) was looking for another win against the Buffaloes this season but Colorado (18-6, 8-5) found revenge with a 25-14, 25-17, 25-23 win over the Cougars Wednesday night in the Coors Events Center in Boulder, Colo. WSU won the first meeting against then-No. 5 Colorado, 3-1 in Pullman Oct. 6.
Taylor Mims (Crow Tribe) led the match with 13 kills and Casey Schoenlein added another eight kills but the Cougars could not find much more offensive success. Jocelyn Urias led the match with seven blocks with Claire Martin collecting three blocks, Cameron Antoine-Dillon had three blocks and Mims had two blocks. Alexis Dirige had a match-high 13 digs and joined setters Ashley Brown, Penny Tusa, Nicole Rigoni in combining for 26 assists. Olivia Coale, Urias and Brown each served one ace.
Colorado out-hit the Cougars 40 to 28, out-dug WSU 45-39 and out-blocked the visitors 8.5 to 8. Colorado hit .200 as a team and WSU was held to a -.019 team hitting percentage.
Washington State (14-11 overall, 3-10 in Pac-12) flies to Salt Lake City to play No. 15 Utah (17-6, 8-4) Thurs., Nov. 2 at 6 p.m. PT. The match will be live streamed online, go to wsucougars.com volleyball schedule page for the link.