Northern New Mexico College puts up a strong effort versus NCAA Division 1 Southern Utah University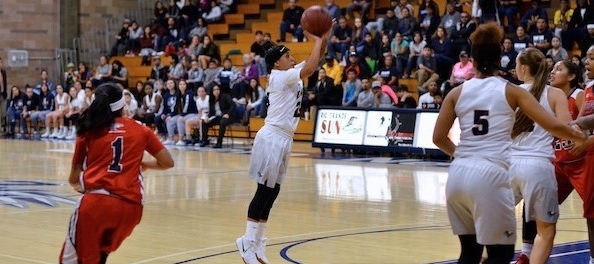 From the opening tip, Northern was ready for anything the Thunderbirds had to offer.  After a quick bucket from SUU, the Eagles responded with a deep three from Jade Hill.
The Thunderbirds responded for another jumper, but three pointers from Leah DeAguero and Ashley John gave the Eagles the lead midway trough the first quarter.  After another score from Hill from underneath the hoop, Northern went cold and SUU jumped raced out to a 12 point lead.  The Eagles continued to fight back and after a basket from Holly Woodbury and another deep three from Kyanne Kowatch, the Eagles clawed back to 8 points and trailed 26-18 at the end of the 1st.
The Second quarter started with another deep three from Kowatch, followed by DeAguero and RanDee Toya.  And in no time the Eagles cut the lead to 2.  The Eagles remained close after a jumper by Tairaius Lucas, but once again, timely shooting and rebounding help keep the Eagles from taking the lead.  Alexis Lovato, battled tough against the much taller Thunderbirds, grabbing 5 rebounds and scoring a strong and-1 in the paint.
The Eagles outscored SUU in the second quarter 17-13, but still found themselves trailing at the break 40-35.
In the third, the Eagles allowed the Thunderbirds to push the lead to double digits, with two turnovers and two missed threes.  Southern Utah used this time to push the ball in transition and put some distance between the two teams.  6 turnovers and 0-7 from behind the arc left the Eagles down 71-59 at the end of the quarter.
The Eagles continued to chip at the lead, getting them to within 16 midway through the quarter, but foul trouble from the Northern posts allowed the bigger Thunderbirds to have their way in the paint.  The Eagles again would hold their own in the quarter behind two threes from Ashley John, and outscore the Tbirds 16-11 in the fourth. But in the end, the Eagles could get no closer, falling by a score of 86-67.   Coach Gallegos was impressed by the way the Eagles competed against a NCAA DI program, "Each young lady from our team did not back down one bit, not inside, not rebounding, not one possession."
The Eagles had four players in double figures, Hill and Kowatch each had 12 points, and Lovato and John added 11.  Lovato also lead the Eagles with 9 rebounds.