Five 3-Pointers by Ava Battese (Comanche/PBPN) Not Enough as Cameron Aggie women fall 98-81 to SWOSU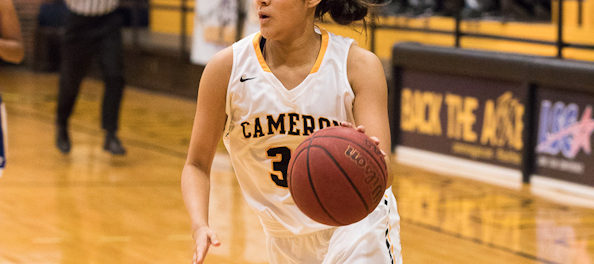 LAWTON – Free throws and turnovers made the difference in the Cameron women's basketball team's 98-81 loss to Southwestern Oklahoma State on Wednesday evening.
The Bulldogs doubled the Aggie's in free throws, sinking 24 of their own to stay a perfect 5-0 to start the season. CU made four fewer field goals than SWOSU's 34-for-62 effort; however, the Aggies were strong behind the arc, making nine treys in a loss that knocks them to 2-2 on the year.
CU's 21 turnovers did not bode well for them either as SWOSU cashed in 27 points off the takeaways. The Bulldogs relied on inside shooting as 66 percent of their points occurred in the paint.
Jamie Bonnarens led all scorers with 28 points and nearly notched a double-double with nine rebounds. The sophomore also recorded three assists and two steals. Ava Battese (PBPN/Comanche) was next with 15 points and drained five three-pointers. Lejha Smith closed out the double-digit scoring Aggies with 13 points paired with 11 boards earning her second season double-double.
SWOSU's duo of Hailey Tucker and Hayden Priddy combined for 53 of the Bulldog's points. Tucker tallied a team best 27 points, nine rebounds, three blocks and three steals. Priddy backed her up with 26 points of her own and six assists.
CU had trouble getting things going to start the game, not making their first basket until four minutes in but caught up quickly to SWOSU's seven points on back-to-back threes by Battese. At the end of the first quarter, CU trailed by one possession until the Bulldogs opened the second period with a 7-1 that put them at their largest lead of nine, 24-15.
Cameron had a short burst of their own, taking a 10-2 run under six minutes to capture their first lead of the game, 29-28 with 4:41 remaining. Four missed CU buckets later, the Bulldogs retook the lead and kept it until the halftime buzzer furthering their advantage to 40-34. By halftime, Bonnarens had already notched 17 points.
SWOSU opened the second half strong, advancing their edge to their largest lead of 11 points until the Aggies went of a third period surge. A pair of threes from Amaka Nwakamma and Andrea Martinez started a 13 point chain Bonnarens finished herself on three straight scoring plays adding nine points of her own to put CU within one point of SWOSU twice.
Still, the Bulldogs would out-score CU 12-5 taking an eight point edge into the final period where they would put the finishing touches on the Aggies. SWOSU out-scored CU 32-23 in the final period, helping seal the deal with four made treys.
The Aggies will visit Harding on Saturday for a non-conference match-up before starting league play on Nov. 30 by hosting Texas A&M-Commerce.