Tate Tsingine (Navajo) set to return to her roots in Tuba City on Monday with the hope of being an inspiration to others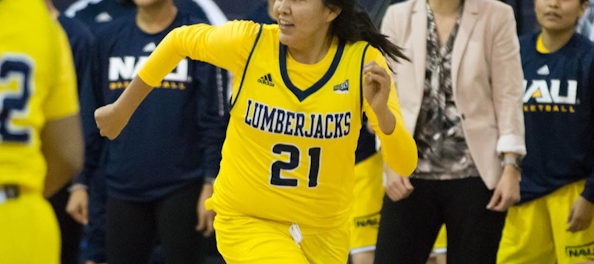 Note: Fans are encouraged to pre-purchase tickets for Monday's NAU women's basketball game in Tuba City at the Bashas' located at Hwy 160 & Hwy 264 in Tuba City to avoid long lines on the day of the game. General admission tickets are $5.
FLAGSTAFF, Ariz. – The sound of the ball bouncing on the court is a familiar one; one you will hear in any gym across the country. Yet, the repeated sound of a basketball dribble means a little more in the town of Tuba City – and to the Native American culture as a whole – than it does in most places.
Basketball is symbolic. It is a message of hope that youth will be able to achieve their dreams and goals outside the reservation. It is a salvation and positive outlet for alternative behavior that could lead down a troubled path.
For junior Tate Tsingine, basketball is what has led her to a place she has always wanted to be – Northern Arizona University. She is one of many success stories to come out of the reservation, and next Monday she will return to her home in Tuba City as a Division I basketball player.
The Northern Arizona women's basketball team will host Antelope Valley on Nov. 27 at Tuba City High School at 6:30 p.m. It is the third consecutive year that the NAU Athletics Department has brought a basketball game to the Navajo Nation, but the first for the women's basketball program. In the previous two years, the men's team has played games in Window Rock and Tuba City.
The sport runs through Tsingine's blood and the Tsingine name is in fact deeply rooted in Lumberjack basketball. Her grandfathers, Willard and Raymond, played on the men's team in the mid-1970's during the days in old Lumberjack Gym. Her aunt, Nicole, played on the women's team from 2004-05.
Tsingine's love for basketball started at an early age, and like so many, she recalls attending games at Tuba City High School as far back as she can remember. Basketball is part of Tuba City's tradition with state championship trophies lining the awards case in the gym. Games are a community event – an event she would later be the headlining act for during an illustrious prep career with the Lady Warriors.
"In a small community like (Tuba City), everyone knows everyone," Tsingine said. "All of the families know each other and we all grew up together. Going to a high school game, everyone supports one another. It's loud and energetic. Everyone is happy for each other's success."
Tsingine reached the pinnacle at Tuba City High School where she was a two-time Arizona Republic All-State First Team selection and three-time Navajo Times All-Star. Not to mention, she was also a standout volleyball captain who was part of Tuba City's 2012 Arizona Division III State Championship team. Coupled with being a National Honor Society member and ranking third in her high school graduating class, it is no surprise then that she was named Tuba City's Academic Athlete of the Year and Female Athlete of the Year before it was all said and done.
When asked about her most memorable moment, Tsingine recalls Tuba City's magical run to the Division III State Championship game during her senior year in 2015. As the tournament's No. 8 seed, Tsingine and the Lady Warriors upset Valley Christian, the top seed and previously undefeated, in the quarterfinals on their way to the state championship game.
Although Tuba City came up shy in its bid for a sixth state basketball title, Tsingine remembers the support the team received during their tournament run in Phoenix. That story alone, encapsulates the importance of basketball in the Native American culture.
During her final year, Tsingine averaged 17.3 points and 5.9 rebounds per game, earning her Navajo Times Player of the Year and All-Section Player of the Year. She would score 23 points in Tuba City's championship loss to Page, the No. 2 seed.
"The whole experience was cool because the community followed us down," Tsingine said. "Even if they weren't from Tuba City, other Native fans were pulling for us."
After limited recruiting options due to Tuba City's isolation, Tsingine went on to play two years at Central Arizona College in Coolidge – nearly 280 miles from home. But after leading her CAC team in three-point shooting both seasons, and averaging 12.8 points last season, new Lumberjack head coach Loree Payne came calling when looking for players who fit her style of play.
On April 17, less than a week after Payne was introduced as head coach, Tsingine's goal of becoming a Division I student-athlete became a reality. The fact that it was at NAU nonetheless made it all the more special.
"I always wanted to come to NAU because this is where my family went," Tsingine said. "My mom, dad, grandma, aunties, uncles all graduated from here. I was so excited when (Payne) asked me to play at NAU."
While Tsingine's career as a Lumberjack is still in the infancy stages, the impact of her presence on the team was felt at NAU's home opener less than two weeks ago. As great as the atmosphere was in the Rolle Activity Center though, it will be an entirely different story when Tsingine steps foot back in her old gym wearing the Blue & Gold, where just two years ago she was electrifying a tight-knit community.
"To be able to take Tate back to her hometown on the reservation and to share that cultural exposure with our players who have never had the opportunity to be on the reservation is something that is really important to our program and our university," Payne said. "Tate has been fantastic and once our offensive and defensive systems click for her, she's going to be a very good player for us. It's going to be exciting for us to have her experience being back in Tuba City again."
In addition to the game, the Lumberjacks – who also have two other players with Native American heritage in senior Chelena Betoney and sophomore transfer Desirae Gonzalez – will immerse themselves in Tuba City. NAU will host an all-age youth clinic on Sunday and will also take part in community service Monday morning prior to the game.
Although basketball is the vehicle Tsingine has used to pursue a college degree with aspirations of a career in physical therapy, that can be said for student-athletes everywhere. Where her story differs stems from not only the pride she has in coming from the reservation, but the natural obstacles that comes with growing up there. Through it all though, she has made it.
Returning to Tuba City will give her a chance to inspire a whole new generation of Native American youth, just as she grew up idolizing players such as Ryneldi Becenti – the first Native American to play in the WNBA. She also cites her relatives, who won three consecutive state titles at Tuba City High School, as influences to strive for it all.
"During times of hardship, I never thought I'd make it this far," Tsingine said. "I'm so grateful. I take a lot of pride in going back because I know there are a lot of Natives who are unable to do that. Especially being at the Division I level, it shows the kids growing up that they can do it too. It's not impossible."
The Tuba City High School gym will be loud. They will roar for Tsingine. But if you listen carefully, you will hear the sound of the ball dribbling off the hardwood. Just do not be fooled, because it is so much more.
It is a source of optimism, and Tsingine is just the latest proof of it.