Elliott Barzilli (Nooksack Tribe) and TCU Fall to Florida in College World Series Opener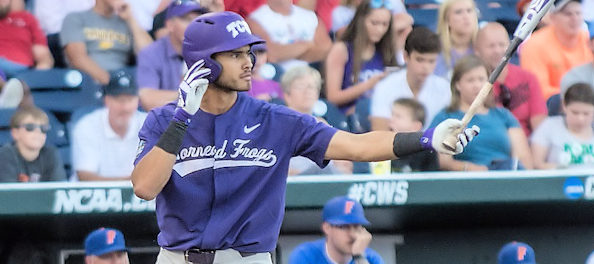 OMAHA, Neb. – For just the second time this season, No. 5 TCU was shutout as No. 3 Florida took a 3-0 victory in the opener for both teams in the College World Series. Cam Warner had two of TCU's five hits in the game.
The Rundown
Florida jumped out to a 1-0 lead in the first and never looked back. On the mound, Alex Faedo held the Horned Frogs in check, limiting TCU to just two hits, walking two and striking out 11.
A lead-off walk turned into an early lead for Florida as Ryan Larson scored without the benefit of a hit. An error had him standing on second with nobody out. Back-to-back ground outs made it 1-0.
Jared Janczak (9-1) battled around base runners for most of his time on the mound. He stranded two runners in the second and another in the third before getting touched for a run on two hits in the fourth and another on three hits in the fifth. He finished the night allowing three runs on six hits in 4+ innings.
TCU had its best chance to get on the board in the third after a pair of walks and an error loaded the bases with one out. Faedo punched out back-to-back batters to keep the Florida 1-0 lead in tact.
In the eighth, TCU got a pair of singles from Connor Wanhanen and Ryan Merrill to bring the tying run to the plate. A ground out and a strikeout ended the threat.
Elliott Barzilli (Nooksack Tribe) was 0-3 at bat but made a highlight double-play in the 5th to end the inning.
After the game Barzillie said, "We just weren't playing our style of baseball and we just need to get back to who we are and step it up."
The Horned Frogs will meet up with Texas A&M on Tuesday afternoon at 1 p.m. in an elimination game. The game will be televised on ESPN.