Elliott Barzillie (Nooksack Tribe) and TCU Stay Alive at College World Series with 4-1 Victory over Texas A&M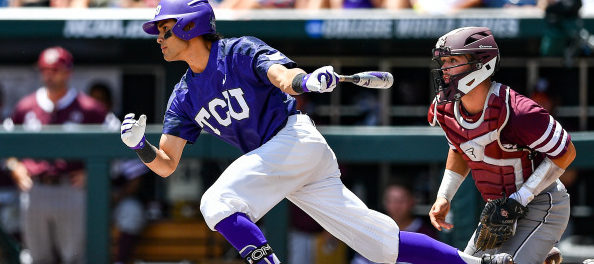 OMAHA, Neb. — TCU staved off elimination as it handed Texas A&M a 4-1 loss on Tuesday afternoon at TD Ameritrade Park. Omaha-native Ryan Merrill homered in the second inning to help lead the offensive charge, while Brian Howard improved to 3-0 in the 2017 postseason.
The Rundown
Brian Howard (12-3) was masterful four 7+ innings on the mound. His first six outs were recorded via the strikeout en route to tying his career-high with 12 in the game. Howard allowed just one run on five hits and didn't walk a batter in leading the Frogs to victory.
Sean Wymer came on in relief after a lead-off double in the eighth. He retired all six batters he faced, registering a pair of strikeouts to record his second save of the season.
Early runs provided all the support Howard needed. TCU pushed across a run in the second and three in the third to build an early 4-0 lead.
Nolan Brown's 14th double of the season had the Frogs in business in the second. With one out, Connor Wanhanen grounded out to short to drive in the go-ahead run.
Merrill's lead-off home run in the third spurred a three-run inning for the Frogs. His sixth home run landed in the Aggie bullpen to give TCU a 2-0 lead. After Zach Humphreys was hit by a pitch with one out, Evan Skoug ripped a doubled into right center to push the advantage to 3-0. An error kept the inning alive for Elliott Barzilli (Nooksack Tribe) who delivered an RBI-single for a 4-0 lead.
Howard kept the Aggies in check for most of the contest. He retired the side in order in four of his seven innings and only faced more than four batters once in an inning. The Aggies lone run scored on an RBI ground out with two runners in scoring position in the sixth.
Notes:
• TCU improved to 2-3 in Game 2 at the College World Series.
• TCU improved to 9-9 overall in the College World Series and 6-7 in games played at TD Ameritrade.
• TCU has eliminated Texas A&M all four seasons the teams have met at least once in the NCAA Tournament.
• TCU eliminated Texas A&M from the postseason for the third consecutive year. The Frogs become the eighth team to eliminate the same foe three straight years, and are the first team since Florida eliminated Miami (FL) from 2009 to 2011.
• Elliott Barzilli collected his 14th multi-hit game of the year and the 56th of his career.
Next Up:
With the victory, TCU improves to 48-17 overall. The Horned Frogs will try and stave off elimination once again on Thursday night at 7 p.m.