Cory Witherill (Navajo) to compete in SVRA Indy Legends Pro-Am field of 33 today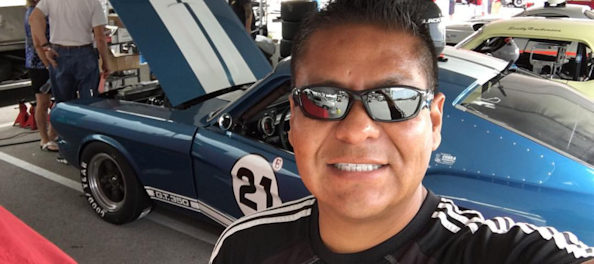 Cory Witherill (Navajo) will be competing in the Sportscar Vintage Racing Association (SVRA) Fathers' Day Weekend Indy Legends Pro-Am at the Indianapolis Motor Speedway.
The Pro-Am feature is a 45-minute race on the Speedway's 2.43-mile Grand Prix road course. Among the top drivers who have filed entries include four-time Indy 500 champion Al Unser and his son, Al Jr., who won the "500" twice. Others include defending Indy Legends Pro-Am champions Robby Unser (A Production) and Paul Tracy (B Production) as well as Jimmy Vasser, Willy T. Ribbs, Johnny Unser, A.J. Foyt IV, Sarah Fisher, Davey Hamilton, Davy Jones, Geoff Brabham, Roberto Guerrero and Lyn St. James.
The cars are racing machines from the "Group 6" SVRA class. As in previous years that will include 1963 to 1972 vintage Corvettes, Camaros and Mustangs.
Cory Witherill owns the distinction of being the only Native American Navajo driver to qualify for the Indianapolis 500. He earned that honor in 2001 when he cracked the field on the traditionally tense "bump day" – the final rounds of qualifying. Despite starting on the last row he steadily worked his way forward to finish 19th. Beginning in 1999 Witherill spent much of his time before and after his Indy 500 appearance competing in versions of the Indy Lights Series. In six seasons he scored eight podium finishes including a victory in the 100-miler at Nashville Speedway during the 2002 season.
This year the Brickyard Invitational will be covered with live video streaming through an agreement with FloRacing.com, a division of FloSports, the innovator in live digital sports and original content.