Deforest Carter (Seminole) and Embry-Riddle Eagles Ranked 13th in NAIA II Preseason Poll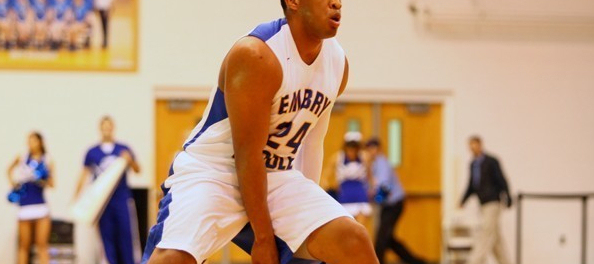 KANSAS CITY, Mo. – On Tuesday, the National Association of Intercollegiate Athletics released the 2014-15 Men's Basketball Coaches' Preseason Poll, a ranking that lists the Embry-Riddle Eagles at No. 13. ERAU, who received 205 total points in the poll, jumped up 11 places from its No. 24 ranking following the 2013-14 season. Embry-Riddle was the second-biggest mover in the poll, next to conference foe Northwood (Fla.) which jumped from No. 20 to No. 5.
Steve Ridder's 2013-14 squad finished the year at 24-8 overall and a 13-5 mark in The Sun Conference. The Eagles grabbed an at-large berth to the NAIA II National Tournament, their 14th all-time appearance at the event where they faced eventual national runner-up Midland (Neb.) in the first round, falling 69-61 to the Warriors.
The No. 13 ranking is the seventh time the Blue and Gold have been ranked in that position, and the first since Feb. 22, 2005.
The Eagles will be playing in their final season in the NAIA in 2014-15 as the athletic department makes its transition to NCAA II status and the Sunshine State Conferecne. Earlier this month, the Eagles were selected third in The Sun Conference Coaches' Poll.
Embry-Riddle returns two-time NAIA Honorable Mention All-American DeForest Carter (Seminole Tribe of Florida) for his senior season. Carter, a senior from Big Cypress, Fla., ranks 17th all-time on Embry-Riddle's career scoring list with 1,302 points, as well as second in career assists (570), second in assists average (5.8), fourth in career steals (230) and sixth in career blocked shots (135).
ERAU will rely on experience in its NAIA farewell season as the roster features six seniors and four juniors with a pair of sophomroes and trio of freshmen.