Rich Winter: Who are the top-5 current Native American High School Ball Players in South Dakota?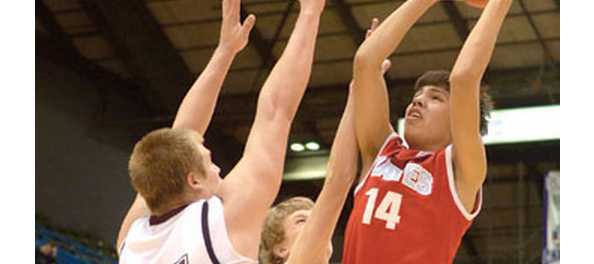 By Rich Winter
With football season over, it's time to start thinking about basketball and the Lakota Nation Invitational.
First of all, before I get started on my list, I'm just trying to stir things up a little and get everyone fired up! With stats sometimes limited, along with my knowledge of some of these teams, the list likely won't be perfect, so if I don't put someone on the list, feel free to comment and I'll see if we can't do something about those I forgot!
No. 1 – Creighton LeBeau – CEB – LeBeau scored 491 points last season and is sure to help CEB be a contender this year. The loss of Xavier Norris will be hard to fill, but LeBeau has a way of filling that stat sheet. Watched him just light it up in St. Francis last year. Great shooter, great ball-player, Panic Button wishes him success in his 2014-2015 campaign.
No. 2 – Kobe O'Rourke – Red Cloud
Kobe O'Rourke averaged 17 points and 7 rebounds in 2013-2014
With Pine Ridge having graduated everyone, I move Red Cloud up to the favorite to come out of Region 7 this year. I think, Kobey O'Rourke is just a junior, so this 6-foot-2 guard/forward is likely to light up LNI for the next two years.
This is where it gets a little harder for me –
No. 3 – Joe Clairmont – Todd County
Joe Clairmont averaged 13.5 points per game last season. Following a great senior football campaign, Clairmont should be ready to lead the Falcons to a winning record in 2014-2015.
No. 4 – Justin Prue – White River
White River made it to the state tournament again. With senior, Justin Prue in the lineup, it could be another banner year for the Tigers.
I'm sorry but I can't find stats on Justin Prue and White River from a year ago. Prue has been a steadying force in the White River lineup for the past two seasons. As a junior, he was MVP of the Jones County tournament and his experience and toughness will be crucial to the success that Eldon Marshall and company have up in White River.
5. Leon Bad Hand – St. Francis Indian School
St. Francis senior, Leon Bad Hand will be counted on to take on the scoring load for a St. Francis team that had some heavy graduation losses.
Early in the 2013-2014 season, St. Francis junior Leon Bad Hand was tearing it up as the leading scorer for St. Francis Indian School. Although is scoring numbers dipped in the middle part of the season, St. Francis Indian lost Charles Broken Leg and Jacob Black Bear and starter, Dru Espinoza (transferred to Todd County), so Bad Hand will be counted on to take over the No. 1 scoring load.
Love to hear your thoughts on some of the other Native players across South Dakota.
Follow me @panicgalore or send me an email to richwinter85@gmail.com