Head coach Tobin Echo-Hawk (Pawnee) Announces 2015 UTEP Softball Schedule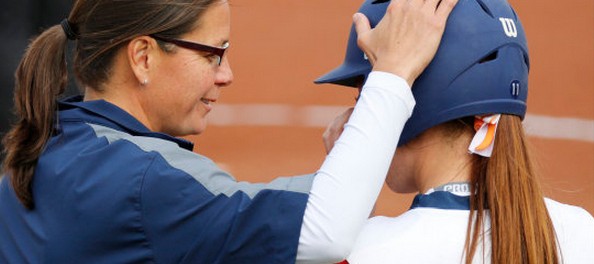 The Miners will face I-10 rival NM State three times this season. The season starts Feb. 6.
Oct. 28, 2014UTEP Softball Schedule 2015
EL PASO, Texas – UTEP softball head coach Tobin Echo-Hawk (Pawnee Nation of Oklahoma) announced the 2015 softball schedule on Tuesday. The schedule is highlighted by the Miners playing six 2014 NCAA Tournament teams, while facing Echo-Hawk's previous school, Portland State twice, and taking on rival NM State in a trio of games.
"We are really excited to play such a challenging schedule," Echo-Hawk said. "We have the opportunity to play some of the top teams in the country and see how we stack up against them. And it will help prepare us for our conference schedule."
Echo-Hawk coached at Portland State for five seasons (2009-13).
UTEP will open the new campaign on Feb. 6 against Virginia (9 a.m. MT) at the Kajikawa Tournament hosted by Arizona State. The Miners will also take on San Diego (Feb.6), Portland State (Feb. 7), UC Santa Barbara (Feb. 7) and Stanford (Feb. 8) in Tempe.
At the Easton Desert Classic hosted by UNLV, the Miners will open against Portland State on Feb. 13. Indiana (Feb. 13), BYU (Feb. 14), Nevada (Feb. 14) and UNLV (Feb. 15) are also on the slate in Las Vegas.
The third tournament includes a trip to Hawaii for the Bank of Hawaii Invitational, as the Miners will take on Hawaii (Feb. 20), UCF (Feb. 21) and Washington (Feb. 21). Feb. 22 will feature the championship game, along with the consolation contests with times to be determined.
Rounding out tournament play, the Miners will play at the Wildcat Invitational hosted by Arizona. The competition includes Arizona (Feb. 27), UT Arlington (Feb. 27), Bryant (Feb. 28), Colorado State (Feb. 28) and UC Riverside (March 1).
UTEP will open Conference USA action with a three-game series against Middle Tennessee at the Helen of Troy Softball Complex, beginning with a doubleheader on March 7. The Miners swept the Blue Raiders in El Paso last season.
The Miners will face three non-conference opponents at Helen of Troy. Texas Tech of the Big 12 (March 11 DH), Pac 12 power Arizona State (April 7 DH) and I-10 rival NM State (April 28 DH) will make trips to the Sun City.
UTEP will also take on NM State in Las Cruces on March 18.
The Miners will complete the regular season in Denton, Texas in a three-game set against North Texas starting with a doubleheader on May 2.
The C-USA tournament will be in Miami, Fla. hosted by FIU from May 7-9.
BYU, Washington, Arizona, Bryant, UAB and Arizona State all played in the 2014 NCAA Tournament. Arizona and Washington both advanced to the Super Regionals.
The Miners will face five schools for the first time in program history this season. The programs include Virginia, UC Santa Barbara, Stanford, Bryant and C-USA member FIU.
Rematches, besides NM State and Middle Tennessee, from 2014 include games against nonconference opponents Nevada, Hawaii, Washington, Arizona and Colorado State. The Miners will take on Southern Miss, LA Tech, UTSA and North Texas in conference rematches from last season.
UTEP last played league members UAB and Marshall in 2013, while Arizona State was last seen in 2009, and Texas Tech during the 2012 campaign.