Pilar Aldrich (Winnebago Tribe) tied a game-high 16 points as CSM Flames Win 83-52 over Grace University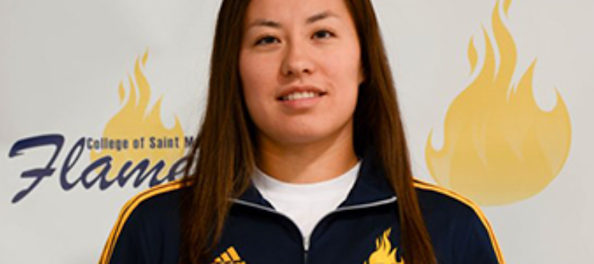 OMAHA, Neb. – "It felt good for both our players and our coaches to leave the gym with a win tonight," College of Saint Mary Basketball Coach Jesse Flanagan said.
The Flames snapped a 12-game losing streak with an 83-52 win over Grace University Wednesday.
The nonconference game started 45 minutes late due to an officiating mistake and it took the Flames another 20 minutes to get their offense going.
CSM led just 15-10 after the opening quarter and 31-20 at the intermission. But, in the second half, the Flames turned on the heat and outscored Grace 19-9 in the third quarter and 33-23 in the fourth.
"We struggled a little bit at the beginning," Flanagan said. "But our level of play in the second half was much more consistent and we played hard. We were making shots and it made a difference in how we were playing."
For the second game in a row, Lynsey Curran (FR/Omaha, Neb.) had a career night for CSM. She scored 16 points and had four steals to lead the Flames.
"I am proud of Lynsey," Flanagan said. "It's the second game in a row that she's really stepped up. But it starts in practice and she's done so well in practice that it's hard to not put her on the floor."
Teammate Pilar Aldrich (SR/Winnebago, Neb.) also had a game-high 16 points. Andrea Christensen (SR/Newell, Iowa) finished with 11 points for CSM, while Ashley Nelson (SO/LaVista, Neb.) added nine points and seven rebounds and Justice Ross (SR/Gretna, Neb.) tallied eight points and seven rebounds. Paige Muhammad (SR/Omaha, Neb.) finished with five assists and Alyssa Laudato (FR/Palm Bay, Fla.) grabbed four steals.
For Grace (7-22 overall), Tschida Johnson canned a team-high 15 points, while Kayla Bloodworth knocked down 10 blocks.
CSM improves to 6-22 on the season and plays its final game at 2 p.m. Saturday against Dakota Wesleyan University. Saturday's game will be Senior Day for the Flames.