Bronson Koenig; From University of Wisconsin Varsity Magazine; August 2014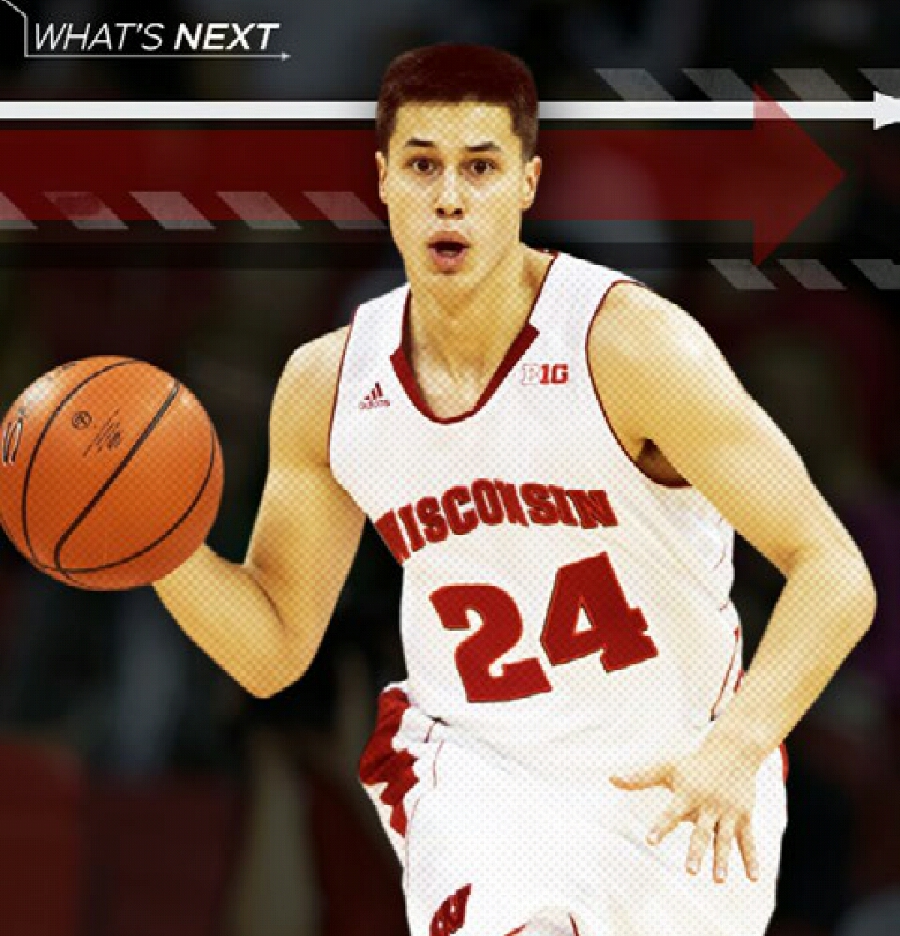 (NDNSPORTS Note: Story is from the August edition of the University of Wisconsin athletics Varsity magazine. Bronson Koenig is a member of the Ho-Chunk Nation out of Lacrosse, Wisconsin. As a freshman, he became the first Native American athlete to score double digit points in NCAA D1 Final Four tournament. As a returning sophomore, Koenig and the Badgers will again be one of the top team in the nation. To download the full story follow the link at the bottom of the page with your iPhone or Android device.)
By Mike Lucas, Varsity Magazine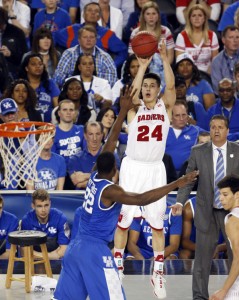 There was a snapshot of Bronson Koenig against Kentucky that was worth saving for a photo album from his freshman season; not so much for what it mean alone but for what it may foreshadow. Less than four minutes into the Final Four semifinal, Koenig replaced Ben Brust and was on the receiving end of a pass from Traevon Jackson, who had snared a rebound off a missed 3-pointer. Koenig got behind the Kentucky guards and scored on the fast break to knot the score. (For the record, the Badgers outscored the "more athletic" Wildcats, 402, in transition points overall.)
"When I got that lay-up," Koenig recalled, "I thought it built my confidence."
Shortly after the first TV timeout, Koenig then made a jumper to push the Badgers into the lead which they would hold on to and expand into a 40-36 halftime advantage over Kentucky. Koenig ended up playing 16 minutes in the half and scored 11 points on 4-of-9 shooting from the field (he was 1-of-4 from beyond the 3-point arc). He had one assist, one steal, and zero turnovers.
It was a picture worth framing.
Koenig was one of three UW players in double-figures during the first half. Sam Dekker had 12 points and Burst had 10. Defensively, the Wildcats smothered Frank Kaminsky and limited him to only one field goal attempt. Meanwhile, Kentucky's ballyhooed freshman guards, the Harrisons, Aaron and Andrew, combined for just seven points in the first half. Koenig had temporarily stolen some of their thunder.
"I had played against them and I had seen them play and I know that I could play with them, "he said of the Harrisons. "I knew we needed to score and I knew that I was playing against freshman. I just felt kind of free and open out there. I knew that I could compete and I could play. Coach (Bo) Ryan kind of let me do what I normally do. He trusted me and that made me feel good."
Although Koenig played just four minutes in the second half, he left a lasting overall impression with his assertiveness on such a grand stage in Texas………………..
To read the rest of this story, download the Varsity Magazine App in one of the App Stores below: