Brendan Bomberry (Mohawk) scored the overtime game-winner over John Hopkins to complete a late comeback for the No. 6 Syracuse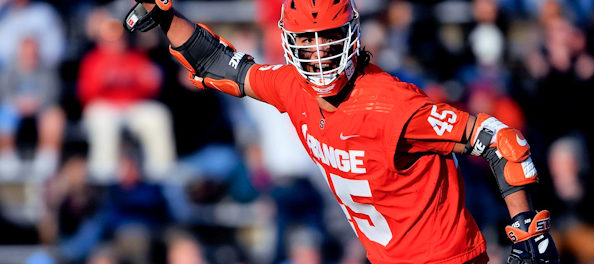 Nick Mariano scored to tie the game at 7 with under a minute to play and Brendan Bomberry (Mohawk) scored the overtime game-winner to complete a late comeback for the No. 6 Syracuse men's lacrosse team (5-1, 1-0 ACC) to down longtime rival No. 14 Johns Hopkins (4-3) at Homewood field on Saturday.
The Orange got goals from six-different players, including two apiece from Mariano and Nate Solomon, while Sergio Salcido had a goal and two assists for a team-high three points in what was Syracuse's fifth-straight one-goal game, tying the 2013 team's program record.
Evan Molloy stopped seven shots in the win, while Ben Williams won 9-of-18 faceoff attempts, including the crucial overtime restart which gave the Orange possession.
"It was a typical Syracuse-Hopkins game. There's been a lot of one-goal games over the history," said head coach John Desko. "We didn't expect anything else coming into today. We've had a lot of experience in these one goal games this year and they've helped us get better and hold our poise.
"I thought both defenses played well and Evan [Molloy] made some big saves for us. It was a nice play at the end there for us to get the goal and come away with the win. We've got Duke next week in the Carrier Dome and we'll build on this."
The Blue Jays got off to a quick lead on the game's first man-up opportunity. Wilkins Dismuke finished Kyle Marr's pass with 8:57 left in the first quarter.
Nate Solomon then buried his first goal of the day three minutes later on a pass from Ryan Simmons. Solomon turned and fired through a big hit while the stall warning was on.
Joel Tinney continued the back-and-forth action when was the beneficiary of a lucky bounce. A teammate fired a shot that was headed wide of the cage, but the ball ricocheted off Tinney's head and past Molloy for the goal. That was the last time Hopkins would score before halftime though.
Peter Dearth bounced a goal past Gerald Logan on a pass from Jordan Evans to even things at two with 1:30 left in the first.
It'd be a full 15 minutes before anyone else would score, when Salcido's man-up goal gave the Orange a 3-2 lead heading into halftime. 'Cuse continued its run out of the half, when Mariano finished a feed from Salcido and Solomon recorded his second to give Syracuse a 5-2 lead with 10:10 left in the third.
However, Hopkins would score five of the next-six goals. Dismuke and Robert Kuhn scored back-to-back goals to pull within one to start the fourth quarter, until a huge Molloy save led to a Paolo Ciferri transition goal to give the Orange back a two goal lead with 14:06 remaining in regulation.
Kyle Marr, Alex Concannon and Kuhn scored in the ensuing 3-0 Hopkins run to give them their first lead since the first quarter with 5:58 to go.
The Blue Jays had a chance to go up two as well when Tinney cut to the cage and had the ball trickle into the net with less than two minutes remaining, but the goal was waived off as he slid on the turf into the crease.
When Syracuse took over, Nick Mariano scored a highlight reel over the shoulder goal with only 34 ticks left off a pass from Jamie Trimboli to knot things at seven and force overtime.
Williams then won the draw to start overtime and Bomberry was able to finish in traffic with 1:02 gone in the extra session to give Syracuse the win.
The Orange will next play Duke on March 25 at 1:30 p.m. in the squads first home game in three weeks.