Slam Dunk Champion Kenny Dobbs (Choctaw) to star in new movie SLAMMA JAMMA releasing March 24th in theaters nationwide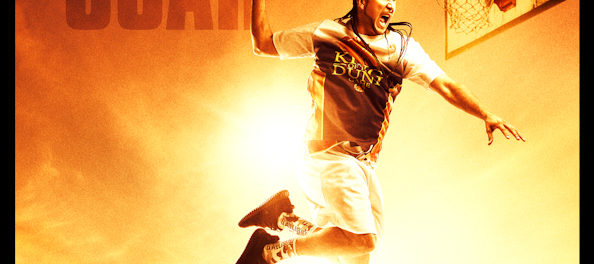 LOS ANGELES – NFL legend Michael Irvin stars alongside slam-dunk champion Kenny Dobbs (Choctaw), Gary Smith, Chris Staples and Porter Mayberry in the new movie SLAMMA JAMMA releasing this March 24th in theaters nationwide during the heart of March Madness. There will be a special "Red Carpet" Movie premiere hosted my Kenny Dobbs & Gary Smith starting at 6pm at AMC Westgate in Glendale, Az.
Inspired by the amazing redemption story of Kenny Dobbs, who overcame the street life to become one of the best dunkers in the world! Co-Star Chris Staples, who is a former Harlem Globetrotter and fourtime slam-dunk champion, leads a cast of notable sports personalities that includes other superstars like 5'5" viral dunking sensation Mayberry (who has dunked over Shaquille O'Neal) along with former NFL Hall of Famer and sports broadcaster Michael Irvin and retired MLB legend Jose Conseco.
"People have said it's the best basketball movie since WHITE MEN CAN'T JUMP," said director Tim Chey of RiverRain Productions.
SLAMMA JAMMA tells the story of college basketball star Michael Diggs (Staples), whose NBA dreams are crushed when he is convicted of a crime he didn't commit. After a six-year prison sentence, Michael must repair the broken relationships from his past and overcome all odds to regain his career. SLAMMA JAMMA will remind audiences that in the face of injustice, faith and determination can help reconcile the past and bring hope to the future.
SLAMMA JAMMA was written and directed by award-winning filmmaker Tim Chey (FREEDOM, SUING THE DEVIL). The cast includes Michael Irvin (Former NFL player – Dallas Cowboys), Kenny Dobbs (International Slam Dunk Champion & Star of TNT hit reality show The Dunk King), Jose Conseco (Former MLB All-Star player), Chris Staples (Former Harlem Globetrotter, 4-Time Slam Dunk Champion), Gary Smith (World renown streetball dunker), Porter Mayberry (Repeat Slam Dunk Champion), Alexia Hall (LOCATING SILVER LAKE), Rosemarie Smith-Coleman (IN THE CLOSET), Ryan Gunnarson (WHEN THE GAME STANDS TALL)