Analyss Benally (Navajo) Scores 9 Points for Spartans who come up short to San Diego State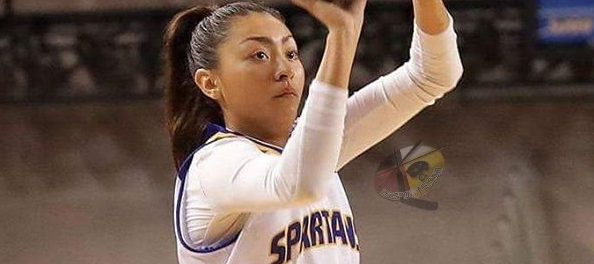 San Jose, Calif. – For the second time this season, the San José State women's basketball team failed to shoot 30 percent from the field and the Spartans came out on the short end in a 75-65 loss to San Diego State on Wednesday night in The Event Center.
Myzhanique Ladd, the reigning Mountain West Player of the Week, led the Spartans with 16 points and a game-high 11 rebounds for her third double-double of the season, but her 6-of-20 from the field was indicative of San José State's 29.6 field goal percentage. Taylor Turney was the only other Spartan in double-figure scoring with 11 on 4-of-12 from the field.
Ladd moved into a tie for 21st place on the program's career scoring list with Sayja Summler. Ladd has scored 848 points in her Spartans career and can move into 20th place and pass Dana Foster with 37 more points.
Analyss Benally (Navajo) hit three three-pointers and has 36 on the season.  She is just 11 from equaling the program's sophomore record of 47 set by Kari Steele in the 1994-95 season.
San Diego State (8-7, 2-2 MW) was led by Geena Gomez who scored a career-high 21 points and McKynzie Fort, the Mountain West's second leading scorer, with 19. Khalia Lark and Cheyenne Greenhouse each chipped in with 11 to give the Aztecs four double-figure scorers.
San Diego State took control of the game in the second quarter converting 10-of-13 field goal tries (76.9 percent) for a 46-35 lead. Greenhouse made three of her four baskets and Gomez poured in eight unanswered points on a pair of three pointers for the Aztecs in the period.
San José State (5-11, 2-3 MW) only cut the deficit under 10 points once in the third quarter and trailed by as many as 16 points, 65-49 with 6:22 in the fourth quarter. A 7-0 rally midway in the fourth quarter gave the Spartans hope at 66-58 with 3:40 remaining.
The Spartans cut the deficit to six on three occasions in the final 1:30 of the game, but could get no closer. The Aztecs made only one field goal in the final six minutes, but converted 7-of-11 free throws in the final 51 seconds to secure the victory.
Even with its hot second-quarter shooting, the Aztecs only shot 41.1 percent from the field for the game.
San Jose State heads to Air Force for a Saturday, January 13 Mountain West contest. Tipoff is at 1:00 p.m. (MT).