Ember Sloan (Navajo) scores 12 points for College of Saint Mary's Flames who fall to Midland University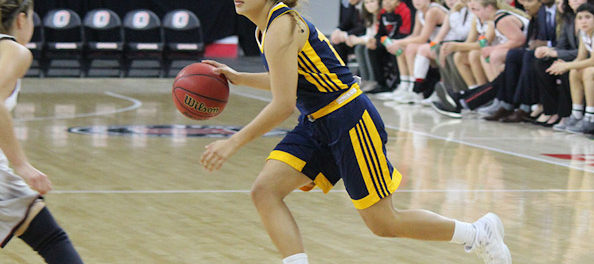 FREMONT, Neb. – The College of Saint Mary basketball team had one of its best offensive performances of the season Wednesday night. The Flames scored 79 points against Midland University in the Great Plains Athletic Conference contest.
Unfortunately, the Flames weren't as strong on the other end of the floor and allowed the Warriors to score 84 points and win the game.
"I thought we played really well tonight on the offense end," CSM Coach Jesse Flanagan said.
CSM's 79 points was the squad's second-highest output of the season.
Miranda Acuna (SR/San Antonio, Texas) led the Flames with a game-high 29 points and she also grabbed three steals. Teammate Tyler Sumpter (Cheyenne/Arapaho) tossed in 21 points, while Ember Sloan (Navajo) also reached double digits
But the Flames struggled at times on defense against Midland.
"We had some breakdowns on the defensive end that really cost us," Flanagan said. "The other difference in the game was rebounding. I think we were outrebounded 53 to 27.
"Overall, our effort was great. We just need to be more consistent during all four quarters."
With the loss CSM falls to 1-9 in the GPAC and 2-16 overall. Midland improved to 4-6, 9-11.
The Flames play again Saturday with a 2 p.m. GPAC game at Dordt College.