Lindy Waters, III (Kiowa/Cherokee) scores 11 Points for Cowboys who fall to K-State on the Road in Manhattan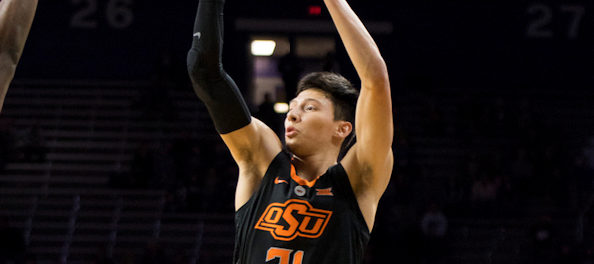 MANHATTAN, Kan. (AP) — Brandon Averette had a career-high 22 points in helping Oklahoma State rally late at Kansas State, but it wasn't enough in an 86-82 loss on Wednesday night.
Jeffrey Carroll tied the game with a jumper with 7 minutes to play, but the Wildcats went on a game-changing 10-2 run to take a 68-60 lead.
The Cowboys kept fighting, and Averette's 3-point play with 40 seconds left got them within 81-76. But Kansas State answered with two free throws and, after Carroll scored at the other end, Brown tacked on the second of two more foul shots to put the game away.
The Wildcats played with the lead most of the way, even pushing their advantage to 27-18 late in the first half, before the Cowboys took a spurt of momentum into halftime.
Carroll provided the spark with a 3-point play and a couple more free throws.
Kansas State regained the lead early in the second half, but neither team was able to shake free until the Wildcats strung together five solid possessions beginning with six minutes to go.
Kansas State hit a turnaround jumper out of a timeout that pushed the Wildcats' lead to 72-62, their biggest of the game to that point, and coach Bruce Weber's team held on the rest of the way.
Lindy Waters, III (Kiowa/Cherokee) returned to the starting lineup for the first time after sustaining an injury a few games ago, he finished with 11 points, 4 rebounds and 2 assists.
BIG PICTURE
Oklahoma State had won three out of four games decided by two possessions or less. But even though they kept the pressure on the Wildcats by scoring down the stretch, they were unable to make up enough ground for back-to-back wins at Bramlage Coliseum
UP NEXT
Oklahoma State returns home to face Texas on Saturday.