Analyss Benally (Navajo) Leads Wichita Heights with 25 Points over 6th ranked Kapuan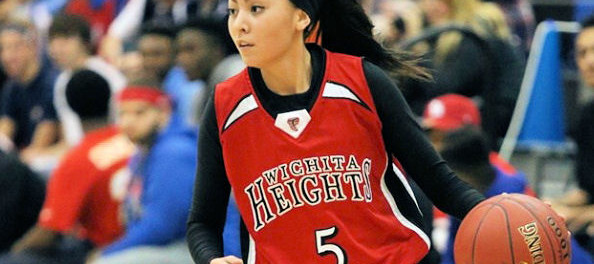 By Tony Adame, Wichita Eagle
The basics: Heights never trailed in a season-opening rout on the road. Heights senior guard and San Jose State signee Analyss Benally (Navajo Nation) led the Falcons with 25 points and five steals. Heights looked sharp as it starts the season hoping to end a two-year drought of state tournament appearances.
Key stretch: Heights put the game away in the second quarter, turning a 23-9 lead after the first quarter into a 46-13 lead at halftime. After Benally owned the first quarter, Heights got a little bit of help from everyone in the second quarter as six Falcons scored.
Standouts: Benally was great, but Heights also got big games from point guard Tania Lowe and sophomore Trinity Conley. Lowe controlled the Heights offense when it had to set up plays and was even better on defense, applying pressure at the top of the press and half-court sets that Kapaun's guards couldn't handle. Conley finished with 11 points, including a pair of three-pointers.
What they said: "We didn't think we would win like that, not at all," Heights coach Kip Pulliam said. "But we came out and really just did everything well. We pushed the ball and we defended and we kept the pressure on, even when we got up big.
"Analyss was great. She did what seniors are supposed to do, and she took the lead. It wasn't just scoring, either. I think she played a great all-around game and just took over from the very start."
"I think there were some nerves because it was the first game, but everything went away once the game started," Benally said. "I think my first 10 points were all team points, because they all seemed like they came off steals and transition."
What it means: Heights (1-0, 1-0 City League) dominated against a traditionally tough City League foe, and did it with stout defense and two big games from its star seniors, Benally and senior forward Athena Alvarado, who had 9 points and seven rebounds. Heights came out in a full-court press in the first quarter that Kapaun (0-1, 0-1) couldn't handle, and the Crusaders weren't able to get clean looks at the basket in half-court sets. Kapaun didn't have a single player score in double digits.
| | | | | | | |
| --- | --- | --- | --- | --- | --- | --- |
| Heights | 23 | 23 | 23 | 6 | — | 75 |
| Kapaun | 9 | 4 | 11 | 3 | — | 27 |
Heights: Lowe 7, Benally 25, Alvarado 9, Conley 11, Powell 3, McElrath 6, Teague 7, Sanders 1, Patrick 5, Taylor 1.
Kapaun: Lesser 2, Monty 4, Lickteig 2, Roulston 8, Allen 3, Harpel 2, Heiman 4, Hastings 2.