Bronson Koenig (Ho-Chunk) Scores 17 Points for Wisconsin who run past Temple, 76-60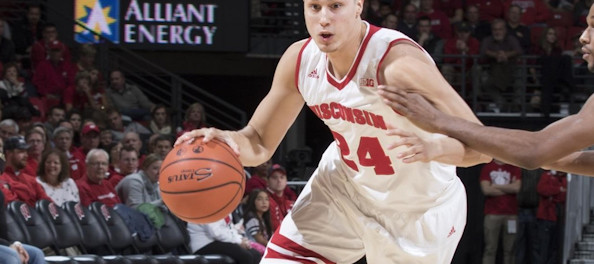 MADISON, Wis. — Wisconsin relied on its starters as it upset No. 14 Syracuse on Wednesday. Three days later, the Badgers' young reserves played a much bigger role.
Wisconsin used big runs in each half, the first fueled by freshmen and the second by veterans, to run past Temple 76-60 on Saturday.
Nigel Hayes led the way with 18 points, Bronson Koenig (Ho-Chunk Nation) added 17 and Zak Showalter pitched in with 11 in a balanced attack for the Badgers (6-3).
Wisconsin seized control with a 19-2 run in the first half. Charlie Thomas had seven points in the surge and Alex Illikainen had six as the Badgers opened up a 30-12 lead.
"I think both of them played pretty solid," Showalter said of Thomas and Illikainen. "They both knocked down some jumpers, which stretches the defense for those driving lines for Nigel, myself and (Koenig). So, yeah, they played solid and hopefully they can keep it going."
In Wednesday's 66-58 overtime win over the Orange, Wisconsin's bench — Thomas, Illikainen and fellow freshman Khalil Iverson — combined for just one point and three rebounds in 16 minutes. They contributed 16 points and 10 rebounds and logged 46 minutes against Temple (3-4), despite Iverson sitting out the second half with an injury. Badgers coach Bo Ryan didn't disclose any further details.
"We always try to preach, `Play with confidence on offense and play solid on defense,' and they did that," added Hayes, who pulled down a game-high 12 rebounds in his third double-double of the season. "As you saw during that streak, we were able to get a lot of things going."
Temple cut the deficit to five at 39-34 after halftime, but Showalter started a 13-0 run with a 3-pointer and ended it with a driving layup that gave Wisconsin a 52-34 lead with 13:27 remaining. Hayes scored six points in the run and Koenig had the other basket.
"I liked where we were early in the second half: We get it to five and Showalter hit a huge 3 in the corner — that was a big play, and they spaced us right back out again," Owls coach Fran Dunphy said. "They're a good team and obviously very well coached, and I thought they showed the requisite toughness that they needed and we needed to be a little tougher than we were."
—
BADGERS BOSSING THE BOARDS
Wisconsin outrebounded Temple 38-29 — the Badgers have outrebounded all nine of their opponents this season.
IN A PHOG
Wisconsin coach Bo Ryan moved into a tie with the legendary Phog Allen for 26th place on the NCAA all-time win list with 746. Ryan is 746-231 in his 32-year career at NCAA Division III Wisconsin-Platteville, Wisconsin-Milwaukee and the Badgers. Ryan, who grew up in Chester, Pa., just outside Philadelphia, has a 2-1 record against Temple.
NO PLACE LIKE HOME
The Badgers improved to 108-9 in non-conference home games in their 15 seasons under Ryan.
UP NEXT
Wisconsin continues its seven-game homestand Wednesday against Wisconsin-Milwaukee.