Tiana Dockery (Navajo) has 9 Kills as No. 9 Kansas Powers Past No. 25 Mizzou, Moves to NCAA Sweet 16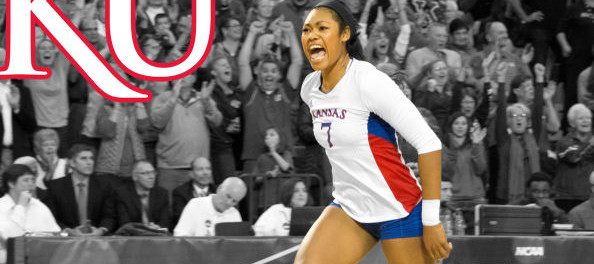 LAWRENCE, Kan. – Every time Missouri flexed a little muscle during Friday night's NCAA Championship Second Round match, Kansas pushed right back, eventually overpowering its former rival in a three-set sweep at Horejsi Family Athletics Center (3-0; 25-16, 25-13, 27-25). Kansas advances to its second NCAA Sweet 16 in three years while keeping it's unprecedented, magical season alive.
Hosting the NCAA tournament first and second rounds for the fourth-straight season, Kansas continued to cruise while running its' season record to 28-2 and swept both Furman and Missouri to move on to next week's regional round in San Diego.
Mizzou, ranked No. 25 entering the tournament, scored the first point in all three sets, but in each frame No. 9 Kansas responded with a show of force in a pivotal moment.
In the first set, Tayler Soucie turned in back-to-back blocks – the second an assisted denial with Anise Havili – to set the tone and give Kansas a 7-4 advantage. The Jayhawks would use two more blocks while pushing the lead to four at 9-5 before eventually rolling to a 25-16 first-set victory.
In the second set, Mizzou spurted out to a 3-1 advantage and looked to be settling in before a 50-50 ball at the net gave the Jayhawks another chance to assert themselves. Havili, the 5-foot-10 Big 12 Setter of the Year, went hand-to-hand with Missouri middle blocker Emily Thater, the tallest player on the floor at 6-foot-3, and pushed the point down in a one-handed tussle. That gave Kansas its first lead at 5-4 and the Jayhawks would later use a 12-2 run to put the second set away, 25-13.
Missouri bolted to an even bigger lead in the third set, scoring five of the first six points and led by as many as five at 7-2. Despite the best efforts from Kansas, that lead would stick until a timeout by KU with the Tigers up 18-13. The stoppage allowed Kansas to regroup and Tiana Dockery (Navajo) a kill on the left side down the line, but the teams traded services errors until Kansas cut it to 20-16.
Seemingly running out of time in the set, KU got a big boost with back-to-back crushing kills from Kelsie Payne to make it a two-point contest at 20-18, but couldn't pull even before Missouri had its first shot at set point, 24-20.
Undeterred, Kansas got a kill from Soucie, 24-21. Mizzou's second shot at set point went into the net, 24-22, then the third, 24-23. The Tigers fourth shot at set point was rejected by Dockery and Janae Hall, 24-24. Carly Kan logged the last of her team-leading 12 kills for Missouri to give the Tigers a fifth set point at 25-24, but another attack error re-tied the game. Payne used another thunderous smash to give Kansas it's first lead of the set, then found a way to put down the game winner on her next attack.
Payne led all players with 16 kills and hit .500 for the match. Finished the match with 40 assists and added 12 digs – one of four Jayhawks with double-digit digs. Soucie, who had four blocks in the first set alone, led the match with seven total blocks – a major reason the Jayhawks held the Missouri attack to a mere .061 for the night.
NEXT UP
The Jayhawks face Loyola Marymount next Friday, Dec. 11. On the other side of the San Diego bracket, No. 1 overall seed USC will play the winner of North Carolina and No. 16 Creighton, who compete in the second round on Saturday. Regionals are set for Dec. 11-12 at Jenny Craig Pavilion.