Wyoming Indian Chiefs Win 8th Consecutive Cross Country State Championship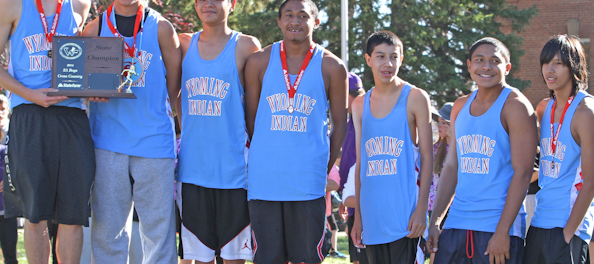 (Casper,Wyo.) – The State Champion Wyoming Indian High School Chiefs placed four of its boys runners in the top 10 in this fall's Wyoming State High School Cross Country Championships held this past week en route to its 8th consecutive Class 2A title. All four were named to the All-State team. Additionally, two Lady Chiefs were named to that elite squad, as was one harrier from Lander Valley High School's boys team.
Keegan Her Many Horses was the individual boys state champion, winning the Class 2A race in a time of 17:28.26. Teammate Buell Robinson was third, Natuin Trosper was 5th and Cory LameBear was 8th. For the Lady Chiefs, Charlene Brown finished second in the girls race and Darcia Pingree was 4th.
As a team, Wyoming Indian ran away with their 8th consecutive state championship scoring 17 points. Runner-up Saratoga scored 41. The Lady Chiefs claimed second place at state with 32 points, just five points behind Pine Bluffs.
(Photos provided to ndnsports.com by Tommy Robinson. All Rights Reserved)