Wisconsin's Bronson Koenig (Ho-Chunk Nation) named a candidate for Bob Cousy Award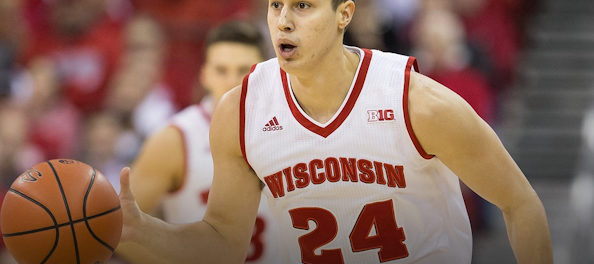 Senior among top collegiate point guards in nation on watch list
MADISON, Wis. – After putting the nation on notice and displaying his credentials for taking – and making – the clutch shot, Bronson Koenig (Ho-Chunk Nation) also enters the 2016-17 season regarded as one of the nation's best players. The senior point guard was named to the watch list for the 2017 Bob Cousy Point Guard of the Year Award, announced by the Naismith Memorial Basketball Hall of Fame on Monday.
Koenig is now a two-time honoree and joins Jordan Taylor (2011, '12), Trevon Hughes (2010) and Kammron Taylor (2007) as the only Badgers in program history to be named to the preseason watch list for the prestigious award. Taylor went on to become a finalist for the Bob Cousy Award in 2011, as did Devin Harris as runner-up in 2004.
One of 20 candidates named to the watch list, Koenig was a third-team All-Big Ten honoree last season after he finished second for the Badgers in scoring (13.1 ppg) and assists (84). He enters his senior campaign having started each of the last 59 games for the Badgers, who Koenig helped guide to the Sweet 16 for the fifth time in the past six seasons – the only team in the nation to do so.
A native of La Crosse, Wisconsin, Koenig shot 39.0 percent (83-213) from 3-point range last year, with none bigger than his buzzer-beating trey against No. 2 seed Xavier to send Wisconsin to the Sweet 16. Koenig also scored the game-winning basket to knock off VCU in Madison Square Garden.
An all-around scorer, Koenig enters his senior season needing just 71 points and 27 assists to become the 14th player in UW history with at least 1,000 points and 250 assists. Possessing great vision and the ability to deliver pinpoint passes, Koenig led the Big Ten in 2015 with a 3.0 assist-to-turnover ratio (98-33) among players with at least 90 assists. For his career, he owns a 2.2 assist-to-turnover ratio, which currently ranks fourth in school history.
By mid-February, the watch list of 20 players for the 2017 Bob Cousy Point Guard of the Year Award will be narrowed to just 10. In March, five finalists will be presented to Mr. Cousy and the Hall of Fame's selection committee.  The winner of the 2017 Bob Cousy Award will be presented at the ESPN College Basketball Awards Show in Los Angeles, California, on Friday, April 7, 2017. Broadcast information will be released at a later date.
Previous winners of the Bob Cousy Award include Tyler Ulis, Kentucky (2016), Delon Wright, Utah (2015), Shabazz Napier, Connecticut (2014), Trey Burke, Michigan (2013), Kendall Marshall, North Carolina (2012), Kemba Walker, Connecticut (2011), Greivis Vasquez, Maryland (2010), Ty Lawson, North Carolina (2009), DJ Augustin, Texas (2008), Acie Law, Texas A&M (2007), Dee Brown, Illinois (2006), Raymond Felton, North Carolina (2005) and Jameer Nelson, St. Joseph's (2004).
2017 Bob Cousy Award presented by College of the Holy Cross Candidates
Jalen Adams – Connecticut
Maurice Watson Jr. – Creighton
Jack Gibbs – Davidson
Frank Jackson – Duke
Nigel Williams-Goss – Gonzaga
Monte Morris – Iowa St.
Frank Mason – Kansas
De'Aaron Fox – Kentucky
Melo Trimble – Maryland
Joel Berry II – North Carolina
Dennis Smith – North Carolina State
Jawun Evans – Oklahoma State
Lonzo Ball – Cal
Jordan McLaughlin – USC
Jalen Brunson – Villanova
London Perrantes – Virginia
Seth Allen – Virginia Tech
Markelle Fultz – Washington
Bronson Koenig – Wisconsin
Edmund Sumner- Xavier