Howard's Tamia Dockery (Navajo) Earns 3rd Mid-Eastern Athletic Conference Setter-of-the Week Honors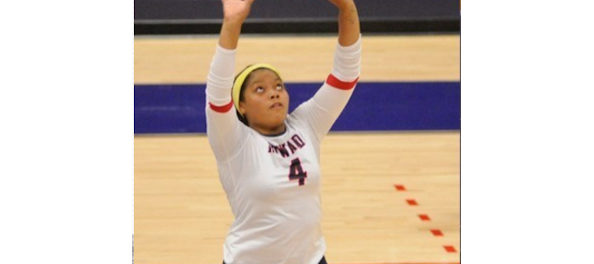 NORFOLK, Va. – The Howard volleyball team trifecta of junior Khaila Donaldson, sophomore Tamia Dockery (Navajo) and senior Morgan Marlbrough received weekly honors from the Mid-Eastern Athletic Conference (MEAC) on Monday. Donaldson was tabbed as Co-Player of the Week and Dockery earned Co-Setter of the Week. Marlbrough was named Defensive Specialist of the Week.
During HU's 2-0 weekend that featured wins against Bethune-Cookman and Coppin State, Donaldson averaged a double-double of 13.5 kills and 13.0 digs. With 27 kills through the pair of matches, she now ranks second in program history with 1,113 career kills.
Dockery tallied a match-high 51 assists in the four-set triumph over B-CU in the rematch of the 2015 MEAC Championship. She averaged 12.0 assists per set and 36.0 assists per match over the weekend.
Marlbrough helped hold CSU to a .039 hitting percentage in a three-set sweep. She finished with a match-best 11 digs against the Eagles. Through two matches, she averaged 5.0 digs per set and 12.0 digs per match.
The Bison continue MEAC play against Maryland Eastern Shore on Friday, Oct. 21 at 6 p.m.