Washington State junior Taylor Mims (Crow Tribe) led the match with a career-high 26 kills as Cougars Grab Upset Win at No. 20 Oregon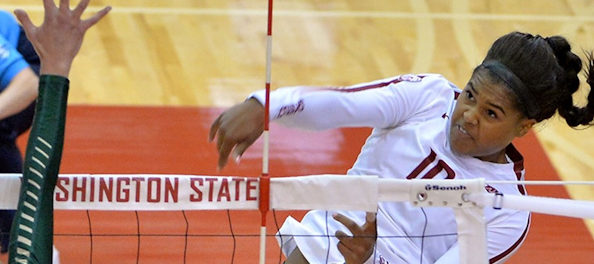 EUGENE, Ore. — A pair of Cougars had career days and led the Washington State volleyball team (16-13 overall, 5-12 in Pac-12) to a 25-19, 25-22, 20-25, 29-27 win over No. 20 Oregon (16-9, 9-8) in a Friday afternoon match at Matthew Knight Arena in Eugene.
This was sweet revenge for the Cougars who had lost a five-set match to then-No. 15 Oregon in Pullman with the fifth set a 15-13 score.
Junior Taylor Mims (Crow Tribe) led the match with a career-high 26 kills, hit .292, and contributed one ace, six digs and three blocks. Sophomore setter Ashley Brown had a match-high and career-high 48 assists, and career-bests with six kills (.545) and three blocks. Ella Lajos had nine kills (.533) and led the match with five blocks. Jocelyn Urias added eight kills, three blocks and one ace. Claire Martin had six kills and three blocks and Savanah Smithhad a career-high six kills. Alexis Dirige led the match with 22 digs while Olivia Coale added 13 digs. Brown and Coale each had one ace.
The Cougars hit .329, the second-highest hitting percentage in this year's conference matches, and Oregon hit .269. The Ducks edged WSU in kills, 65 to 61, but the Cougars claimed the advantage in digs, 65 to 61, and blocks, 9.0 to 7.0.
WHY & HOW…
WSU Head Coach Jen Greeny said, "I'm so proud of this team for putting it together and gutting it out. I thought we played extremely well offensively. And Taylor Mims, wow, what an afternoon. But there were contributions from every single person. Taylor and Ashley Brown did a really nice job. We were able to move Taylor around quite a bit, get her in her more natural place in the middle on a few of those attempts. I think Taylor attacked probably the best out of the back row that I've seen in quite some time. A great job by Taylor. Really proud of her effort. And Ashley, even when she wasn't playing in the front row at all, she did really well dumping two-handed. Her court-sense is really good seeing those openings. She did an exceptional job not only delivering the ball, mixing up her sets and offensively as well.