Tesha Buck (Sioux) finished with 17 points in UNM Lobo's Nike N7 Game Victory over NMSU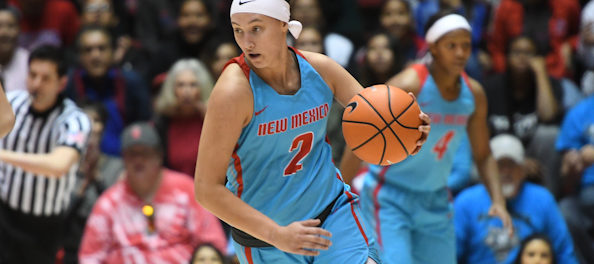 ALBUQUERQUE, N.M. — The University of New Mexico women's basketball team used a 21-2 first-half run to turn a one-point deficit into an 18-point lead and held off a New Mexico State second-half charge to defeat the Aggies 86-75 Saturday afternoon at Dreamstyle Arena in the Lobos' annual Nike N7 Game.
The Lobos (4-0), who sported turquoise uniforms for the Nike N7 Game to celebrate Native American Heritage Month as the turquoise color represents harmony, friendship and fellowship in the Native American culture, had four players reach double figures with Cherise Beynon leading the way with 27 points, nine assists, seven rebounds and a career-high six steals. Tesha Buck (Mdewakanton Sioux) finished with 17 points (going 4-for-8 from 3-point range) to go along with six rebounds, Alex Lapeyrolerie had 17 points with 12 coming in the fourth quarter as NMSU tried to rally and Jaisa Nunn finished with 12 points and tied a career high with 13 rebounds.
"It was the game that was expected – hard fought," UNM coach Mike Bradbury said. "It was a game that had big runs both ways. They fought back, and I thought it was really competitive. I thought both teams really competed at a high level."
UNM trailed 12-11 with 5:37 left in the first quarter after New Mexico State's (1-2) Zaire Williams drained a 3-pointer to give the Aggies the lead.
Buck answered for the Lobos as her own 3-pointer with 4:51 left in the first quarter ignited a UNM 21-2 run capped by an Antonia Anderson bucket with 5:04 remaining in the second quarter to make it 32-14 Lobos as the they held NMSU to one field goal for a stretch of 10 minutes, 49 seconds.
NMSU cut the UNM lead to 35-24 at the half, but the Lobos opened the second half on 13-3 burst – including 3-pointers from Buck, Lapeyrolerie and Laneah Bryan to make it 50-27 with 6:46 remaining, UNM's largest lead of the game.
The Aggies didn't go away as they outscored the Lobos 23-10 (including a 7-0 run to end the quarter) to cut the UNM lead to 10 at 60-50 heading into the fourth quarter.
"We knew they weren't going away," Beynon said. "They're a good team, and we each play really hard, so we knew we couldn't let up and it was an intense game for the entire 40 minutes."
NMSU got the UNM lead down to as low as seven in the fourth, but 12 fourth-quarter points from Lapeyrolerie – including 10 in a row for the Lobos at one point – helped UNM hold off the Aggies and win their fourth game in a row to start the season.
"I was focusing on trusting in my teammates and getting into a rhythm where we're getting good shots and taking good shots," Lapeyrolerie said. "I definitely felt I had to step up for the team. You know, it was a team effort, and when one of us falls, we each have to step it up."
UNM has scored 86 or more points in their first four games of the season – the first time doing that since 1979 as the Lobos are averaging 92.2 points per game, 17th in the nation.
UNM, which has played four games in the first nine days of the season, is off until hosting the UNM Thanksgiving Tournament starting Friday. UC Irvine and Illinois get things going at 4:30 p.m. with the Lobos taking on Wichita State at 7 p.m.