Tyler Sumpter (Cheyenne/Arapaho) was CSM's top scorer with 12 points in Loss to No. 10 Northwestern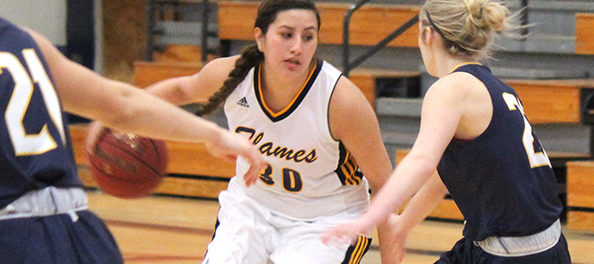 ORANGE CITY, Iowa – Northwestern College won its ninth straight game with an 88-45 victory over the College of Saint Mary Saturday afternoon.
The Red Raiders, who were ranked No. 10 in the country in the most recent NAIA poll, improve to 12-2 in the Great Plains Athletic Conference and 17-5 overall. CSM drops to 1-14, 3-21.
"Northwestern is a very good team," CSM Coach Jesse Flanagan said. "They have outstanding guards and they have three really good posts. They are a really tough matchup for our bunch. When we play zone against them, we have to hope they miss 3-point shots and today they did not."
The Red Raiders knocked down nine treys, shot 49 percent from the floor and outrebounded the Flames 57-30.
"Two areas in the game that really hurt us were rebounding and transition points," Flanagan said. "They won the rebounding battle and they got a lot of easy transition buckets because of our lack of hustle.
"The biggest disappointment of the day was our lack of competitiveness. There comes a point when we have to have inner determination to be successful and today we did not."
Darbi Gustafson led Northwestern with 24 points and 10 rebounds.
Tyler Sumpter (Cheyenne/Arapaho) was CSM's top scorer with 12 points. Teammate Corryne Millett (JR/Minden, Nev.) knocked down eight points, while Keona Cadore (JR/Mims, Fla.) and Lacey Knudsen (SR/Fairplay, Colo.) both chipped in seven. Also for the Flames, Ashely Nelson had five steals.
The Flames return to their home court Wednesday when Hastings College comes to town for a 6 p.m. contest.