Courtney Lewis (Fort Mojave Tribe) led a Sun Devil charge in the women's 3,000-meter run; Daan Haven (Navajo) takes second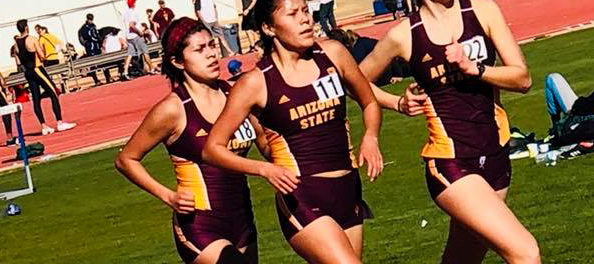 PARADISE VALLEY, Ariz. – It was all about the youth today on the track and on the runway as the freshman and sophomore Sun Devils came away with some of the best marks of the day at the Puma Invitational in Paradise Valley.
Freshmen Ryan Bright, Cole Riddle and Emily Gallegos-Francksen all came away with wins in their respective events, while sophomore Courtney Lewis (Fort Mojave Tribe/Hopi) led a Sun Devil charge in the women's 3,000-meter run.
Just a 26-minute drive north from Sun Angel Stadium, the meet at PVCC was almost a home meet for the Devils as they competed against other community colleges from across the state in this small, but competitive, event.
Riddle was back on top of the standings again with his collegiate best height of 5.20m/17-0.75 feet. The mark replaces his previous best as a Sun Devil from the season opener at Northern Arizona for the No. 7 mark in school history.
Bright's jump of 2.05m/6-8.75 feet was a personal best and got him over the line in first place just ahead of Sun Devil veteran Elijah Hughes, who took second.
Lewis' 3,000-meter win helped the Sun Devils go 1-2-3 in the final open race of the day. She crossed the line in 10:19.08, just a second better than freshman Daan Haven (Navajo) who took second. Megan Reniewicki made her 2017-18 debut after missing the cross country season and took third in 10:22.03.
Gallegos-Francksen was a second better than her competition in the 800 as she took the win in 2:20.84.
Last weekend was one to forget for Kristiana Warth as she recorded just her sixth no-height in her Sun Devil tenure, but the senior bounced back in Paradise Valley and topped 4.00m/13-1.50 feet, her best ever mark indoors and the seventh-best mark in school history.
Although this weekend was a short trip north for ASU, next weekend sees the Sun Devils head to the plains of Nebraksa for the Husker Invitational to face teams from the Big Ten, SEC, Big 12 and AAC among others.