Tyler Sumpter (Cheyenne/Arapaho) had a team-high 12 points, while Trista Merrival (Oglala) added 10 points for CSM Flames in Loss to Mount Marty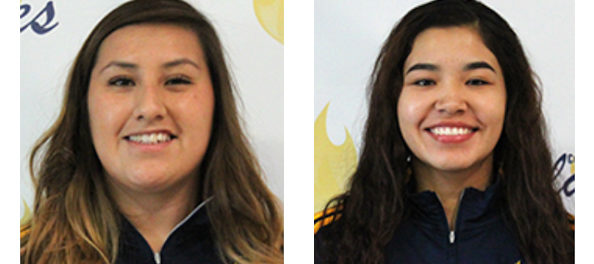 OMAHA, Neb. – The lead changed 16 times, but when the final buzzer sounded it was Mount Marty College that came away with the win. The Lancers defeated College of Saint Mary 70-63 Saturday afternoon in a Great Plains Athletic Conference showdown.
"We knew it was going to be a low-scoring game," CSM Coach Jesse Flanagan said. "And I thought we played well. Our effort was there.
"They just had a couple spurts in the fourth quarter and those spurts were hard for us to overcome. That was the difference."
The score was locked 14-14 after the opening quarter and CSM led 32-30 at the intermission. The Flames held the lead again – 54-51 – after the third quarter, but the Lancers outscored CSM 19-9 in the final frame to clinch the win.
"I thought our level of defense was there for the majority of the game," Flanagan said. "They just had a couple of times where they got a couple layups or a couple threes in a row and we didn't answer back."
Molly Koisti led all scorers with 21 points for Mount Marty. Teammate Sarah Castaneda knocked down 15, while Mikayla Prouty tossed in 11.
For the Flames, Tyler Sumpter (Cheyenne/Arapaho) had a team-high 12 points, while Trista Merrival (Oglala-Lakota) added 10 points. Teammate Ashley Nelson (JR/LaVista, Neb.) scored eight points, pulled down a team-high seven rebounds and also grabbed three steals.
"Tyler started us off well," Flanagan said. "Trista stepped up and played well and I thought Amy (Talavou) did some good things on the post.
"Mount Marty did a really good job of running us off the 3-point line after the first five minutes of the game. They made it tough for us to get shots we wanted."
The Flames drop to 1-12 in the GPAC and 3-19 overall. Mount Marty improves to 2-11, 11-11.
CSM returns to action Wednesday with a 6 p.m. contest at Doane University.