Cayla Jones (Yakama) finished with a game-high 19 points and added seven rebounds for the Geoducks who fall to Oregon Tech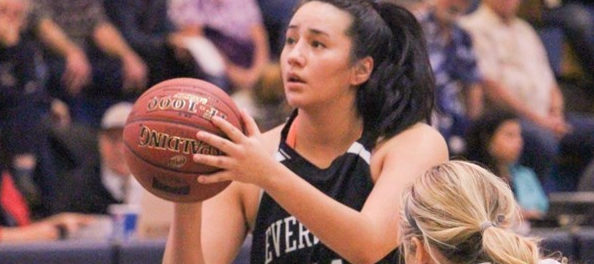 KLAMATH FALLS, Ore. – Oregon Tech used a 24-12 scoring edge in the third quarter to build a lead that The Evergreen State College could not overcome Sunday as the host Owls took a 75-70 Cascade Collegiate Conference women's basketball triumph at Danny Miles Court.
For the second straight day the Geoducks (9-8 overall, 7-6 CCC) came up just short after playing tough against a strong conference opponent on the road. Yesterday, they led No. 10-ranked Southern Oregon in the fourth quarter before losing by seven points.
After a 34-34 tie at the half today, the difference came in the third quarter when the Owls (15-8, 8-5) shot 56 percent while the Geoducks went cold, going 3-for-19 for 16 percent.
Oregon Tech led by as many as 14 points after scoring the first basket of the fourth period and still led by 11 with 4:24 when Evergreen scored five straight on a layup by Alexcis Higginbotham and a three-point basket by Jahpera McEachin. The Owls kept the Geoducks at bay the remainder of the game by hitting six consecutive free throws.
Cayla Jones (Yakama) finished with a game-high 19 points and added seven rebounds for the Geoducks, who also got 12 points apiece from Cierra Moss (Makah Tribe) and McEachin. Deidra Miller led Evergreen's rebounding effort with eight.
The Geoducks shot 36 percent from the field (24-for-66) and 42 percent from three-point range (8-for-19).
Nohea Waiwaiole and Mikaela Shumaker both scored 14 points to lead the Owls, who shot 39 percent from the field (25-for-65) and 54 percent (7-for-13) from three-point range. Oregon Tech held a 48-40 rebounding edge with Waiwaiole completing a double-double with 10 rebounds.
The loss dropped Evergreen into fifth place in the conference standings, one spot behind Oregon Tech, with seven games remaining. The Geoducks play a pair of home games next weekend, hosting Corban on Friday and Northwest Christian on Saturday. Tipoff for both games is 5:30 p.m.