Troy Senior Caitlyn Ramirez (Seminole Nation) Ends College Career with NCAA Opening Round Loss to Mississippi State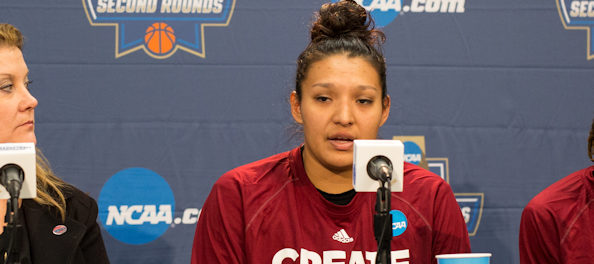 STARKVILLE, Miss. – The No. 15-seed Troy women's basketball team had its season come to a close on Friday in Humphrey Coliseum as No. 2 Mississippi State knocked off the Trojans, 110-69, in the NCAA Tournament First Round.
Mississippi State (30-4) closed the first half on a 21-1 run to take control of the game and never looked back. The Bulldogs made 12 3-pointers in the game and held the Trojans to just 5-of-31 (16 percent) shooting from beyond the arc. Blair Schaefer carried MSU early making her first four shots of the game including three 3-pointers; she finished with a game-high 21 points.
Troy (22-11), which made its second consecutive NCAA Tournament appearance, held its ground with a 21-point first quarter and trailed by just six at the end of the opening frame. However, the offense went cold in the second quarter making just 1-of-13 shots to end the half. Claresa Banks scored 15 points to lead the Trojans, while Amber Rivers entered late and added 11. For the second consecutive season, Troy set a program single-season record for 3-pointers with 247.
Senior Caitlyn Ramirez (Seminole Nation of Oklahoma) recorded four rebounds before fouling out in the fourth quarter. Ramirez ends her year second in Troy's single-season history with 342 rebounds; and finishes her career third in the school's Division I career record book with 692 rebounds.
The Trojans now look to the 2017-18 season where they will need to replace seven seniors including Ramirez, a two-time All-Sun Belt selection.