Derek Willis (Arapaho) Scores 8 points at Kentucky moves past NKU in First Round of NCAA Tournament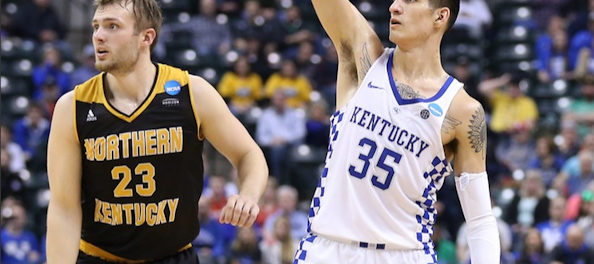 INDIANAPOLIS – It wasn't a thing of beauty. It wasn't the kind of game that will be etched in Kentucky's rich NCAA Tournament history.
It also wasn't supposed to be. Those sorts of outings are for the latter stages of March Madness.
Friday night – and, in the final minutes, Saturday morning – was all about advancing.
"The first game is always the toughest game in the tournament," Derek Willis said. "We got our feet under us and I feel like once we got going a little bit we'd make our runs. … We came out with the win so it's good to have that. Moving on to the next game."
The second-seeded Wildcats had a clear advantage against No. 15 Northern Kentucky and showed it for portions of the game, especially in Bam Adebayo's 15-point, 18-rebound performance. UK (30-5) built an early lead against the Norse (24-11) and answered an NKU rally with a 15-3 run to close the half and coasted to a 79-70 victory in Bankers Life Fieldhouse to set up a showdown with Wichita State on Sunday at approximately 2:40 p.m.
In fact, there was a little too much coasting for John Calipari's tastes. The coasting led to some nervous moments in the final minutes, namely NKU closing to within seven points on two occasions.
"So I was coaching them to say this is not how you do this," Coach Cal said. "We talked after the game. But I want them to enjoy the win. They'll be sleeping here in another 45 minutes, but they can enjoy it for another 45 minutes anyway."
The Cats didn't appear to be enjoying the win much as they walked off the floor. They stopped short of saying the game felt like a loss, but they know another similar effort could well lead to exactly that down the road.
"We just feel like we can play better," Dominique Hawkins said. "The second half, we just felt like we broke down a lot and we know we can communicate to each other. We just gotta fix it and move on to the next game."
On that account, there's plenty to do.
Though Hawkins and Willis both called on their tournament experience in advising their younger teammates about what to expect, it takes actually being there for it to sink in. It should be no big surprise then that NKU was able to cut into UK's lead, which grew to as large as 18 points early in the second half.
"The games are different," said De'Aaron Fox, who scored a team-high 19 points. "People are playing with more of a sense of urgency and they never stop fighting. We got up by like 18, 19 and they never stopped fighting. Brought it down to like (seven). So when we get up like that, just be able to finish a game."
Finishing, however, is easier said than done. That's especially true when an opponent senses its season is about to end.
"When someone gets put in that position, it's like Coach says, it's house money," Fox said. "They're going to fight for their lives. When people are doing that, we just gotta try to match their intensity and we didn't do that today."
That failure allowed Northern Kentucky to make 16 of its final 31 field-goal tries. Before that, UK had forced the Norse into 10-of-42 (23.8 percent) shooting, well below the Cats' previous field-goal percentage defense best of .304, set in the fourth game of the season against Duquense.
"We just gotta focus more on the defensive end and not break down as much as we did tonight," Hawkins said. "I feel like we'll fix it in practice tomorrow and focus on what we have to do for Wichita State."
Focus and energy were the most popular topics as reporters swarmed the Wildcats for their interviews in their postgame locker room. That was especially true of Malik Monk, who shot 3 of 11 from the field and missed all six of his 3-pointers.
"Like I said, we gotta focus, focus in from the jump," Monk said. "I don't think my focus was there. You can't have games like that. I can't have games like that if we're going to make a run in this. We just gotta come out with energy."
There's no doubt that will be true on Sunday against the Shockers, who bested Dayton just before UK took the court, 64-58.
"I mean, we know how tough the next opponent is," Calipari said. "Wichita is tough physically. Veterans, they play hard. They're a very, very talented team, and we know that, and we're going to have to play better to be in the game with them."
Dayton head coach Archie Miller told Sports Illustrated that Wichita State (31-4) should have been a No. 4 seed, not the 10-seed the Shockers were given on Selection Sunday. Considering Wichita State is ranked No. 5 according to kenpom.com – only one spot behind Kentucky – it's clear UK has a worthy opponent on its hands.
In other words, the Cats are going to have to be a whole lot closer to perfect come Sunday afternoon.
"We know we've got to play better, no question," Calipari said. "I expect that we will."