Tisha Phillips (Nez Perce Tribe) Scores 14 Points as Eastern Washington upsets Big Sky Conference leader, Northern Colorado, 67-61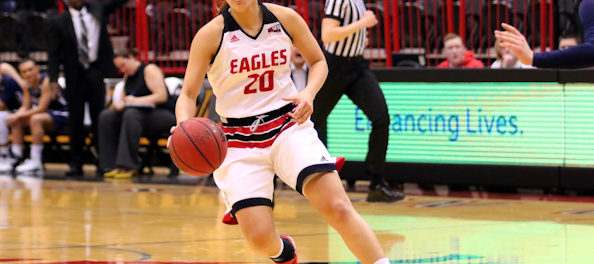 CHENEY, Wash. —Junior Delaney Hodgins poured in 22 points on Saturday (Feb. 11) and sparked a late run in the fourth quarter to help the Eastern Washington University women's basketball team upset Big Sky Conference leader, Northern Colorado, 67-61, at Reese Court.
The Eagles led for 34:13 on Saturday and led by as many as 12 points in the game, but Northern Colorado continuously chipped away before going on a 12-4 run to tie the game up at 52-52 with 6:37 left to play. Sophomore Violet Kapri Morrow began a game-deciding 13-4 run with a layup at the 6:13 mark, then Hodgins, the Big Sky's leading scorer, took over.
The junior hit back-to-back three-pointers to force Northern Colorado to take a timeout trailing, 60-54. Freshman Symone Starks collected a steal on the Bears ensuing possession, which led to a layup for Hodgins to give EWU an eight-point lead. UNC hit a basket to bring Hodgins' personal 5-0 spurt to a halt, but the forward responded with her third 3-point field goal in a little over two-and-a-half minutes to put Eastern up nine at 65-56. All nine points scored by the junior came during the game-winning run.
"Delaney understands when she needs to step up," said head coach Wendy Schuller of Hodgins' fourth-quarter performance. "She got some really good open looks from three and knocked them down at a crucial time for us."
The Bears pulled within five points with 17 seconds remaining, but the Eagles were able to maintain a lead and upset the first-place team in the Big Sky, 67-61.
Hodgins' 22-point effort was one of four double-digit scoring performances for Eastern Washington on Saturday. Senior Ashli Payne recorded 16 points, while redshirt senior Tisha Phillips (Nez Perce Tribe) contributed 14 points and Morrow posted 10.
"We imposed our will and guarded the way we know we can today," said Schuller of the win. "I don't think we were very good defensive our last time out, and we talked about a few things over the last 48 hours. The ladies did an amazing job today on the defensive end and played with a lot of effort."
Eastern held Northern Colorado to a 45.3 shooting percentage. The Eagles forced 14 UNC turnovers and collected nine steals, with Payne, Starks and sophomore Alissa Sealby each picking up two apiece. The Eagles shot an even 50 percent (28-of-56) from the floor on Saturday.
"We proved to ourselves today what we are capable of," added Schuller. "When we get to Reno we know we can play with anyone when we play defense like we did today. But we still need to get better. Offensively, we're still figuring ourselves out. We have a little bit of time to prepare ourselves for next week, so we may add some adjustments to prepare us for this stretch run."
Top Performers: Junior Delaney Hodgins collected a game-high 22 points on 9-of-15 shooting. The forward went 4-of-5 from behind the arc, three of which she hit in the fourth quarter alone.
Redshirt senior Tisha Phillips handed out a team-high four assists to go along with 14 points.
What's Next: It will be a full week before the Eastern Washington women's basketball team's next game. The Eagles open a season-long three-game Big Sky road trip next Saturday at Idaho. Tip-off from Moscow, Idaho is set for 6 p.m. PT.