Caitlyn Ramirez (Seminole) Scores Team-High 16 Points for Troy who fall to UL Lafayette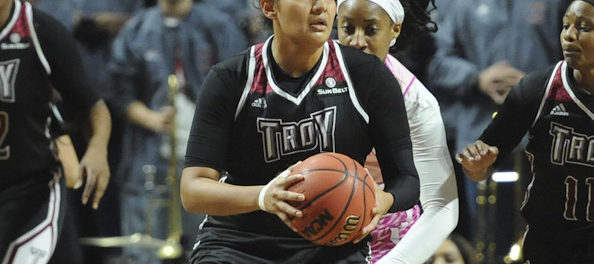 LAFAYETTE, Louisiana – The Troy women's basketball team couldn't keep pace against UL Lafayette's red-hot offense in an 80-72 loss in the Cajundome on Saturday.
The Ragin' Cajuns (14-8, 8-5 SBC) shot 61.7 percent, which is the highest mark by a Sun Belt Conference team this season and the highest against Troy in more than a decade. ULL was 29-for-47 from the field in the game including 7-of-11 in the final quarter as the team built a 16-point lead.
Simone Fields was 10-for-10 from the field for the Cajuns to lead all scorers with 24 points. Caitlyn Ramirez (Seminole Nation) didn't hit her first field goal until the 4:54 mark in the fourth quarter but finished with a team-high 16 points to along with nine rebounds.
Troy (16-7, 9-3) battled back in the final quarter to cut the deficit to eight, but with too little time on the clock to complete the comeback. Claresa Banks had 14 points in the game including seven down the stretch.
RUN OF THE GAME
Troy closed the gap to just one with 7:16 left in the third quarter on a 3-pointer by ArJae' Saunders. From there, UL Lafayette outscored the Trojans 22-7 to open a 16-point advantage by midway in the fourth quarter and were 10-of-12 shooting over that span.
UP NEXT
Troy returns home to host Appalachian State (Feb. 16) and Coastal Carolina (Feb. 18) at Trojan Arena.