Tiara John (Navajo) has 12 Kills for Elmira College who Fall in Thrilling Five-Set Tilt to Keystone College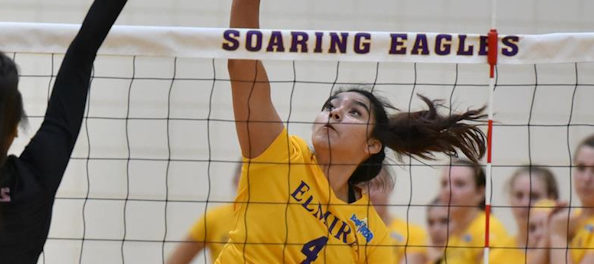 LA PLUME, Pa. — Despite taking a one-set-to-none lead over non-conference foe Keystone College on Tuesday evening, the Elmira College women's volleyball team suffered a 3-2 setback to the Giants in La Plume, Pennsylvania, at the Gambal Athletic Center.
Both teams in tonight's contest were evenly matched, as just one of the five sets was decided by less than five points. Despite taking the loss tonight, the Soaring Eagles outhit their non-league foe by a .210-to-.155 margin in addition to holding slim advantages in assists (53-48) and service aces (11-8). One way that the Giants kept the match close was by limiting service errors, as Keystone finished with just nine, while EC recorded 15.
After Elmira won the first and fourth sets and the Giants took the second and third sets, the match sat tied at 2-all. This meant that there would be a decisive fifth set. With the score at 4-3 in Keystone's favor in the fifth, a Lauren Smith '21 kill and two straight aces by Kasey Campbell '19 gave the Soaring Eagles their first lead of the set, 6-4. The Giants answered with a 3-0 run of their own to retake a one-point advantage, 7-6.
Keystone built its lead to three points, 11-8, when Natalie Schieder '19 sparked a 3-0 run for the Purple and Gold with one of her match-high 20 kills. At the end of the push, EC was again tied with Keystone, 11-11. Unfortunately for Elmira, this is when the Giants took over by taking four of the next five points, winning the set by a 15-12 final score, giving them the non-conference victory.
Individually, Schieder played fantastic tonight, as she finished with the aforementioned 20 kills and 23 digs, both of which led all players. Schieder's classmate, Taylor Kaznowski '19, also shined with her match-high 48 assists, which is tied for the second most that she has posted in 2017, and her 15 digs. Junior outside hitter Tiara John (Navajo) also finished the match with a double-double with her 12 kills and 11 digs. Freshman Lauren Smith '21 tied John with 12 kills and also contributed eight digs. Defensively, Campbell tallied 17 digs and Karina Hastings '19 recorded a team-high four blocks.
News and Notes
Elmira's record falls to 18-11 overall and 6-5 in away matches.
John's (12k, 11d) double-double is her fifth as a member of the Purple and Gold.
Up Next
The Soaring Eagles head to Oneonta, New York, for the Dig Pink Invitational, hosted by SUNY Oneonta, on Friday and Saturday, October 28 and 29. For the second consecutive season, the Dig Pink Invite will conclude Elmira's season. EC will begin the event with a 4:00 p.m. match against the host Red Dragons on Friday.