Tiara John (Navajo) adds 6 Kills as Elmira College Eagles Soar Past Penn College in Weekday Bout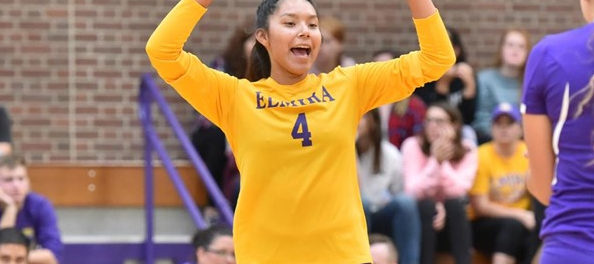 WILLIAMSPORT, Pa. — The Elmira College women's volleyball team cruised to a straight-set [25-9, 25-19, 25-17] victory over the Pennsylvania College of Technology on Tuesday evening at Bardo Gymnasium in Williamsport, Pennsylvania.
The Soaring Eagles dominated the Wildcats on offense, as EC posted a .234 attack percentage, while Penn College hit at a -.011 clip. Elmira also held a 39-to-13 advantage in assists and an 11-to-6 lead in service aces.
Leading the way for the Soaring Eagles was the two-way performance of junior setter Taylor Kaznowski '19. The Hamburg, New York, native posted match-highs in assists (25) and digs (13) for her eighth double-double of the year. Natalie Schieder '19 (8), Savannah Terry '21 (7) and Tiara John, Navajo Nation, (6) all finished one kill apart to lead EC. Terry also hit at an impressive .462 clip after posting just one error in her 13 attacks, which led all players with at least 10 attacks. Schieder also chipped in 10 digs in the contests to tie Rachel Katzenberger '19 for the second-most on the team.
Elmira's strong play began in the opening set, as it won the first by a convincing 25-9 final score. The opening set included a 14-1 run that helped propel the Soaring Eagles past Penn College. EC's smooth play was fueled by a noteworthy .265 hitting percentage in the first, compared to Wildcats' -.074 clip.
The second and third sets were very similar, as the Soaring Eagles bested Penn College by 25-19 and 25-17 final scores, respectively. In both sets, Elmira stormed out to an early lead that it held on to throughout the remainder of the set. Efficient hitting was also a recurring theme for the Purple and Gold in the final two sets, as they hit above .200 in both, while the Wildcats did not hit above a .029 clip.
Up Next
Following tonight's contest, the Purple and Gold will return to North Country for the second time this season, this time to participate in the Roos Classic, hosted by SUNY Canton. The Soaring Eagles begin the tournament on Saturday, October 14, with a match against the host Kangaroos at 6:30 p.m.