Tesha Bucks (Sioux) Scores 15 Points for Lobos who snap its three-game losing streak and defeat Utah State, 80-47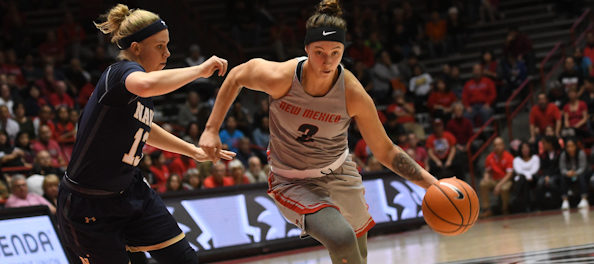 ALBUQUERQUE, N.M. — The University of New Mexico women's basketball team used a balanced effort along with strong defense to snap its three-game losing streak and defeat Utah State, 80-47, Wednesday night at Dreamstyle Arena.
The Lobos (17-6, 5-5) had four players finish in double figures led by Jaisa Nunn's 12th double-double of the season as she finished with 20 points and 12 rebounds (her fifth game of having 20-plus points and 10-plus rebounds). Combine that with UNM holding the Aggies (5-17, 3-8) to 18 first-half points – the lowest point total the Lobos have held a team to in the first half this season – and it was a strong all-around effort by the Lobos.
"I thought tonight, defensively, was one of our better games," UNM coach Mike Bradbury said. "We've been working on that for the last 10 days. We were pretty good. We weren't perfect, but we were better than we have been."
UNM jumped out to a 22-14 lead after the first quarter (ending the period on a 17-6 run due in large part by draining 4 of 8 3-point attempts) before pulling away in the second.
Alex Lapeyrolerie drained a 3-pointer on the Lobos' first possession of the second quarter to put UNM up by double figures (for what turned out to be for good) at 25-14. Utah State scored at the 6:44 mark in the quarter to cut the UNM lead to 32-18 – but the Lobos held the Aggies scoreless the rest of the half while outscoring Utah State 10-0 during the stretch, capped by one of Madi Washington's five 3-pointers (tying a career high), to take a 42-18 lead into the break.
From there the Lobos cruised, outscoring Utah State 38-29 over the final 20 minutes to pick up the victory.
To go along with Nunn's 20 points and 12 rebounds, Tesha Buck (Mdewakanton Sioux) had 15 points (5-for-10 from 3-point range), three assists and two steals, Washington finished with 15 points on 5-for-9 shooting from beyond the arc, Lapeyrolerie had 11 points and drained three 3-pointers while Laneah Bryan added eight points, two rebounds and two assists.
"I give a lot of credit to my teammates," Nunn said. "I put myself in a position, they get the ball, they give me the ball hard, they give me the ball well and I have the opportunity to get a wide-open layup just because of them. A lot of my points are because of my teammates."
Cherise Beynon, after scoring a combined 71 points in the previous two games, controlled the tempo for the Lobos and had her fifth double-digit assist game of the season with 12 to go along with four points and three steals.
"I think (Beynon) likes it a little bit better too (when she doesn't have to shoulder the scoring load so much)," Buck said. "She's been playing really well, and today, we finally had a little help for her. Hopefully we can keep that going."
Overall, the Lobos shot 49.2 percent from the field (30-for-61) and 45.5 percent from 3-point range (15-for-33, the most 3-pointers for the Lobos since hitting 15 against Lamar on Dec. 20). Utah State shot 34.5 percent from the field (20-for-58), including 1-for-9 from 3-point range.
Hailey Bassett led Utah State with 14 points.
The Lobos return to action 2 p.m. Saturday when they host San Jose State. It will be the team's Alumni Game and fans can save $4 off bench seat tickets thanks to UNM scoring 80 points in the Lobos' "We Score, You Save" promotion Wednesday night ($1 off Saturday bench seat tickets for every 20 points the Lobos scored).