Ava Battese (Comanche/PBPN) added 14 points for Cameron Aggies fall 75-60 to Angelo State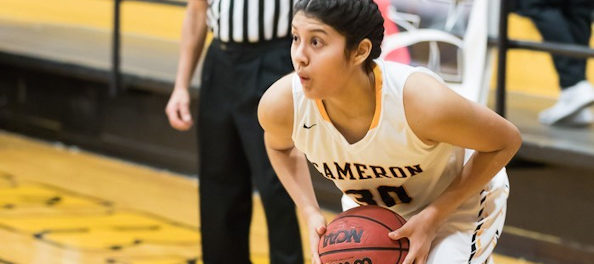 LAWTON – The Cameron women's basketball team fell 75-60 to Angelo State on Thursday evening to move to 8-13 overall and 6-7 in Lone Star Conference play.
The win for ASU is their seventh in a row moving the Rambelles to 15-5 overall and 10-3 in the league.
Jamie Bonnarens led Cameron with 19 points, while Parfitt McNair and Ava Battese (PBPN/Comanche) 14 points apiece.
Bonnarens also had six assists and eight rebounds alongside Lejha Smith who also had eight boards.
Leading ASU was Marquita Daniels who scored a season high 27 points, besting her previous mark of 24 points, which she set against Cameron earlier this season. De'Anira Moore had the game's lone double-double on 16 points and ten rebounds, in addition to seven blocks.
The Rambelles outscored the Aggies 19-14 in the first two periods to lead 38-28 at the half. Much of ASU's success came from defensive play as the Rambelles cashed in 14 CU turnovers for 19 points, eight of those were on takeaways.
In the first half, CU shot 44 percent from the field and arc, and made both shots from the line. ASU shot 51 percent on the floor, 33 from out deep and missed their lone free throw attempt. At the half, Daniels had already scored 17 points.
Cameron would trail by as much as 18 points in the second half, but had their best outing in the fourth quarter where they scored 19 points to ASU's 20.
CU ended the game shooting 40 percent on the floor, made eight treys and made 6 of 12 at the stripe.
The Aggies will remain at home for their next contest at 2 p.m. on Saturday with Texas A&M-Kingsville.