Terae Briggs (Crow) Scores 10 Points for Wolf Pack in Win over Portland State on Sunday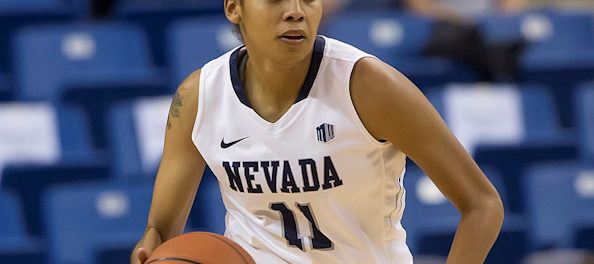 RENO, Nev. – Behind double figure efforts from a pair of forwards in Teige Zeller and Terae Briggs, the Nevada women's basketball team earned its first win of the season Sunday afternoon, 67-55 over Portland State. The win marks the first head coaching win at Nevada for Amanda Levens.
In a game in which the Wolf Pack (1-1) led for 36 minutes, Nevada got 34 points from its bench en route to scoring a season-high 67 points. Bench points, steals and free throws were all vital in the victory. Nevada racked up 18 steals in the game, led by senior T Moe who had a career-high five. It is the most steals the Pack has had in a game since 2012. At the foul line Nevada produced 19 points, going 19-of-32, compared to the Vikings' (0-2) six points (6-of-14).
Zeller led in scoring for the Wolf Pack, finishing with 16 points, one shy of tying her career high. Briggs' 10 points on Sunday give her points in double figures in back-to-back games to start the season. Junior Jade Redmonadded nine points, giving her a new career high at Nevada. Moe also scored nine points and added a team-high four assists.
It was a back and forth beginning to the game but as the opening quarter headed towards its end, Portland State found itself quickly adding on to its lead. Nevada used a 5-0 run in the last 52 seconds of the period though to regain a lead it would not relinquish. The Pack transitioned that scoring run into the second quarter, adding the first four points of the second quarter.
The Pack took a 43-34 lead into halftime, its first halftime lead of the season, thanks to strong shooting in the first 20 minutes. Nevada connected on 50 percent (15-of-30) of its shots in the first half, including 3-of-6 from beyond the arc.
The final two quarters were less offensively efficient for both teams, but Nevada did its part in maintaining its lead and not allowing the Vikings to mount a comeback. The closest Portland State got in closing the gap was eight points early in the fourth quarter, but the Pack quickly stretched its lead back out to 14, outscoring its opponent 8-2 in the next five minute span.
Nevada remains at home to square off against Pepperdine this Wednesday evening at 6:30 p.m. Season and single game tickets are on sale now by calling (775) 348-PACK, visiting NevadaWolfPack.com or stopping by the ticket office inside Lawlor Events Center.
Postgame notes
–Amanda Levens earned her first win as Nevada head coach.
-Nevada produced 18 steals in the game, the most it has had in a single game since it notched 23 at Oregon on Dec. 9, 2012.
-Senior F Teige Zeller scored in double figures for the 13th time in her career, finishing with 16 points, one shy of tying her career high.
-Junior F Terae Briggs (Crow) scored in double figures for the second straight game, adding 10 points in today's win.
-Junior F AJ Cephas pulled down the 400th rebound of her career.
-Senior G T Moe recorded five steals in the game, setting a new career high.
-Junior G Jade Redmon scored nine points, a new career high for her at Nevada.
-Sophomore F Kristin Dearth scored the first points of her Wolf Pack career in the first quarter.
-Junior G MorningRose Tobey (Sioux) has now started in back-to-back games for the first time in her career.
-Freshman G Janelle Sumilong saw her first collegiate appearance, checking in in the first quarter.
-The all-time series between Nevada and Portland State now stands at 5-4 in favor of Nevada.