All-Native Bacone College Warrior Cross Country Team Receives At-Large Bid for 2017 NAIA Cross Country National Championships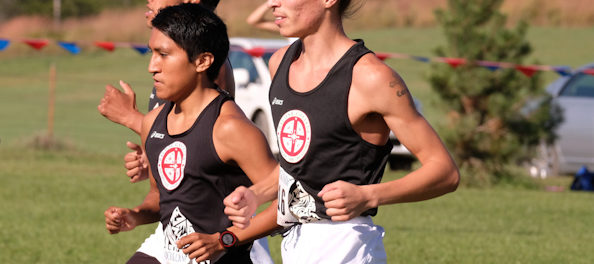 y Trevor Lininger, NAIA Athletic Communications and Media Intern
KANSAS CITY, Mo. – The 36 team, 87 individual field has been announced for the 62nd Annual NAIA Men's Cross Country National Championships that will be held on November 18. The event will take place at Fort Vancouver National Historic Site in Vancouver, Wash. The men's 8–kilometer race will began at 10:30 a.m. PST.
Bacone College, whose top 7 runners are Native Americans, returns to the championship after making its first appearance last year.
This is the fifth time in NAIA Cross Country Championships history that the race will be held in Vancouver, Wash. The most recent was in 2012.
The field is made up of 25 automatic qualifiers (AQ), one host berth and 10 at-large berths. A team received an automatic berth by winning the conference championship meet or was the meet runner-up
Four conferences received two automatic berths: Chicagoland Collegiate Athletic Conference, Heart of America Athletic Conference, Kansas Collegiate Athletic Conference and River States Conference. In addition to the meet champion, the meet runner-up also received an automatic berth.
Northwest (Wash.) earned The Cascade Collegiate Conference's host berth.
The 10 at-large berths are determined by the final regular-season Top 25 Poll that can be seen by clicking here. These teams received an at-large berth – College of Idaho, Eastern Oregon, Westmont (Calif.), Cornerstone (Mich.), Bacone (Okla.), Taylor (Ind.), Northwest Christian (Ore.), Aquinas (Mich.), Oregon Tech and Wayland Baptist (Texas).
In addition to the team qualifiers and at-large bids, 87 athletes will compete as individual qualifiers.
Defending Champion Southern Oregon earns an automatic berth after winning the Cascade Collegiate Conference Championship Meet.
Fans can watch the post-race awards ceremony free beginning at approximately 1 p.m. PST. The national championship event takes place on Nov. 18 in Vancouver, Wash., at Fort Vancouver National Historic Site. To access the live video stream of the ceremony and find more information, click here.
For all other information regarding the Men's Cross Country National Championships, click here.
2017 NAIA Men's Cross Country National Championships – Teams
| | |
| --- | --- |
| Aquinas (Mich.) | At-Large No. 8 |
| Bacone (Okla.) | At-Large No. 5 |
| British Columbia (B.C.) | Association of Independent Institutions Champion |
| College of Idaho | At-Large No. 1 |
| Columbia (Mo.) | American Midwest Conference Champion |
| Cornerstone (Mich.) | At-Large No. 4 |
| Dickinson State (N.D.) | North Star Athletic Association Champion |
| Eastern Oregon | At-Large No. 2 |
| Edward Waters (Fla.) | Gulf Coast Athletic Conference Champion |
| Embry-Riddle (Ariz.) | California Pacific Conference Champion |
| Indiana Tech | Wolverine-Hoosier Athletic Conference Champion |
| Indiana Wesleyan | Crossroads League Champion |
| Lewis-Clark State (Idaho) | Frontier Conference Champion |
| Missouri Valley | Heart of America Athletic Conference Champion |
| Mount Mercy (Iowa) | Heart of America Athletic Conference Runner-Up |
| Northwest (Wash.) | Cascade Collegiate Conference Host Berth |
| Northwest Christian (Ore.) | At-Large No. 7 |
| Northwestern (Iowa) | Great Plains Athletic Conference Champion |
| Ohio Christian | River States Conference Champion |
| Oklahoma City | Sooner Athletic Conference Champion |
| Olivet Nazarene (Ill.) | Chicagoland Collegiate Athletic Conference Runner-Up |
| Oregon Tech | At-Large No. 9 |
| Our Lady of the Lake (Texas) | Red River Athletic Conference Champion |
| Point Park (Pa.) | River States Conference Runner-Up |
| Reinhardt (Ga.) | Appalachian Athletic Conference Champion |
| SCAD Savannah (Ga.) | The Sun Conference Conference Champion |
| Shawnee State (Ohio) | Mid-South Conference Conference Champion |
| Southern Oregon | Cascade Collegiate Conference Champion |
| St. Francis (Ill.) | Chicagoland Collegiate Athletic Conference Champion |
| St. Mary (Kan.) | Kansas Collegiate Athletic Conference Champion |
| Taylor (Ind.) | At-Large No. 6 |
| The Masters (Calif.) | Golden State Athletic Conference Champion |
| Wayland Baptist (Texas) | At-Large No. 10 |
| Westmont (Calif.) | At-Large No. 3 |
| William Carey (Miss.) | Southern States Athletic Conference Champion |
| York (Neb.) | Kansas Collegiate Athletic Conference Runner-Up |