Taylor Mims (Crow Tribe) led the match with 24 kills as Cougars Win 3-1 over ASU to Keep NCAA Volleyball Hopes Alive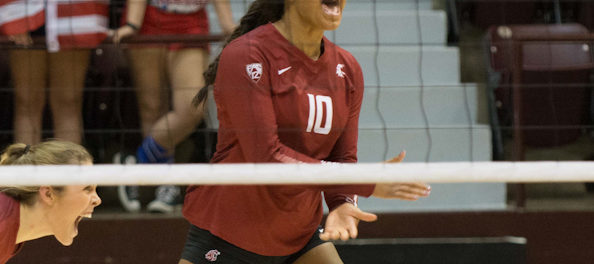 PULLMAN, Wash. — Several Cougars contributed career-high statistics as the Washington State volleyball team (17-14 overall, 6-13 in Pac-12) defeated Arizona State (10-21, 0-19) with set scores of 25-22, 25-15, 22-25 and 25-21 Wednesday night before 794 fans in Bohler Gym.
Junior right side Claire Martin had a career-high 12 kills while not committing a hitting error in 17 attacks for a .706 hitting percentage, and led the match with six blocks. Taylor Mims (Crow Tribe) led the match with 24 kills while hitting .263, had a match-high two aces and tallied six digs and two blocks. Ella Lajos had a career-high 14 kills, hit .478 and had five blocks Jocelyn Urias added 10 kills and four blocks. Ashley Brown had another double-double with 54 assists and 15 digs.
Sophomore libero Alexis Dirige became the 11th Cougar to reach 1,000 career digs. She had 16 digs Friday night which places her career total at 1,012 digs, ninth-best in WSU's all-time records.
WSU hit .349 for the match, the ninth time this season the Cougars have hit over .300 in a match, and held Arizona State to a .241 hitting percentage. WSU won the kills category 69 to 51, the digs column 63 to 56 and dominated in blocks, 10 to five.