Taylor Mims (Crow Tribe) had 10 Kills, Seven Digs for Washington State Volleyball who Remain Undefeated with 3-1 Win at Howard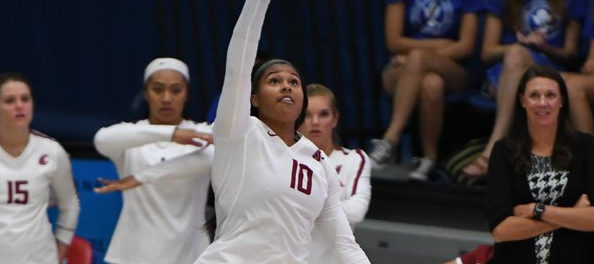 WASHINGTON D.C. — Sophomore Alexis Dirige had a career-high 36 digs as the Washington State volleyball team (2-0) defeated Howard University (1-3) in four sets Monday night at Burr Gymnasium in Washington D.C., with set scores of 25-22, 18-25, 25-16, and 25-21.
Dirige's 36 digs ties Kate Sommer for the second-highest digs total in a match in school history. Dirige's 36 digs is a school record for most digs in four sets while Sommer's 2013 tally came in a five-set match against California.
Junior McKenna Woodford had a double-double, leading the match with 18 kills and tied her career-high of 17 digs. Junior Ella Lajos had a career-high 11 kills, hit .435 and had five blocks. Junior Taylor Mims (Crow Tribe) had 10 kills, seven digs and three blocks. Redshirt sophomore Jocelyn Urias had a career-high six kills (.400), six blocks and the lone Cougar ace. Sophomore transfer Ashley Brown had 26 assists.
The Cougars hit .252 on the night and held Howard to a .134 hitting percentage.
The Cougars return to Pullman to host the Cougar Challenge Tournament Thursday, Aug. 31 through Saturday, Sept. 2, in Bohler Gym, with teams from Baylor, College of Charleston, University of Incarnate Word, and Quinnipiac competing.