Daan Haven (Navajo) Leads Arizona State Sun Devil Women to Runner-Up Finish in Cross Country Opener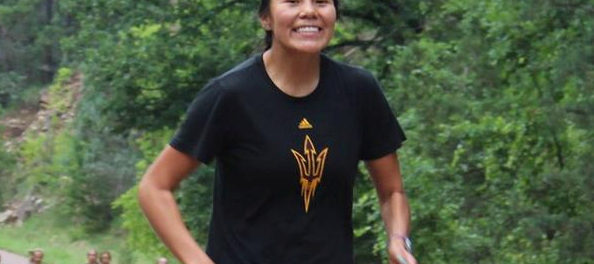 FLAGSTAFF – Redshirt freshman Daan Haven (Navajo) led the Sun Devil women to a 62-point second place finish, t the George Kyte Classic in Flagstaff on Saturday.
Haven's Sun Devil debut was a memorable one as she led the Sun Devil women to a runner-up finish behind NAU in the 2.6-mile race.
Although the race took place at roughly 7,000 feet up, the Ganado native Haven said she felt at home on the mountain course.
"I had fun, and the course is actually a lot like how home is – the terrain is very similar," Haven said. "[The altitude] definitely affected me a little. It felt different. I did feel it coming up because I got a little headache, but other than that I felt OK."
The Sun Devils defeated UCLA, who came into the race ranked seventh in the West, while ASU debuted in the poll at No. 9.
Anna Pruter finished one place behind Haven and Angela Saitta took 12th in her ASU debut.
"I thought Anna Pruter did a great job," Rasmussen said. "She ran 30 seconds faster than she did last year. Angela did a great job as a freshman and she's only been running for a short period of time – maybe a little over a year; we'll call it her fifth cross country race ever. For Daan Haven, out for the first time competing in uniform, it was a tremendous effort from her."
Haven's pace of 6:07 kept her near the front of the pack, and she only dropped one spot during the latter half of the race, moving from seventh to eighth.
While Haven, Pruter and Saitta earned top-15 places, all of the Sun Devil scorers finished in the top-20, with Alexis Nichols and true freshman Chamique Duboise (Navajo) finishing 16th and 17th, respectively.
"It's a young group, but I saw a lot of good things out there from them, so that's exciting," Rasmussen said. "We're still missing pieces on the women's side too, though that was more strategic in holding those ladies back. They'll be ready to go in two weeks' time in Tucson."
ASU has a weekend off from competition before heading south to Tucson for the Dave Murray Invitational hosted by Arizona.