Taylor Mims (Crow) Named to the All-Tournament Team at the 13th European Global Challenge in Croatia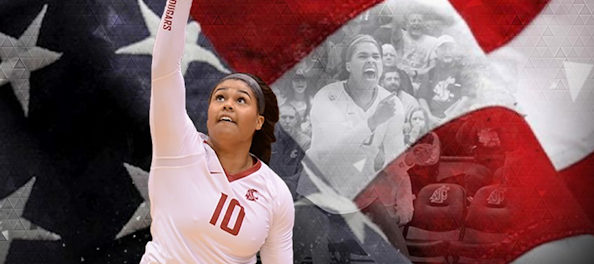 PULA, Croatia — Taylor Mims (Crow Tribe) was named to the all-tournament team at the 13th European Global Challenge where she was playing for the U.S. Collegiate National Team-Europe (CNT-Europe).
Mims contributed four kills, one ace and one block for CNT-Europe in the gold-medal match. CNT-Europe defeated an all-star team from the Mountain West Conference 25-15, 25-15, 25-13 for the gold medal.
The CNT-Europe team won all three its round-robin matches before entering bracket play, defeating Israel (25-17, 29-27, 25-6) and Czech U23 (25-17, 25-18, 25-18) on July 11 and BIP Midwest (25-22, 25-14, 18-25) on July 12.
CNT-Europe then defeated Falconara 15-25, 25-17, 25-15, 27-25 in the July 13 quarterfinals and BIP Midwest 25-19, 25-15, 19-25, 25-20 in the semifinals.
Mims, who was Montana's 2014 Gatorade player of the year, will be a junior this fall at Washington State. She's been a two-year starter for the Cougars and was named to the PrepVolleyball.com all-America honorable mention and all-Pac-12 honorable mention teams after her sophomore season in which she totaled 191 blocks, which was the fourth-most in the NCAA.