Taylor Mims (Crow) career-high 17 kills led the Washington State volleyball team to a win over Fairfield University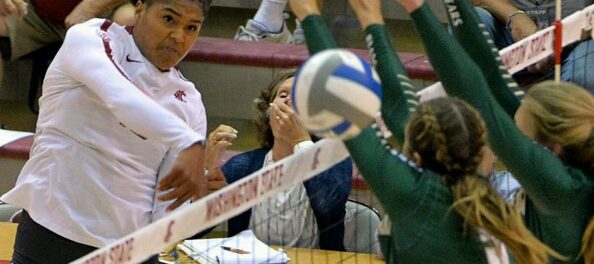 FAIRFIELD, Conn. — A career-high 17 kills by Taylor Mims (Crow Tribe) led the Washington State volleyball team (8-1) to a 29-27, 25-14, 25-17 win over Fairfield University (4-6) Saturday night at the Fairfield Invitational at Alumni Hall in Fairfield, Conn. This was the second time in two days WSU defeated Fairfield 3-0.
Mims, a junior outside hitter, tallied her 17 kills while hitting .306 and had seven digs and four blocks. McKenna Woodford added 15 kills, hit .357 with eight digs and two blocks. Claire Martin, a junior moved to the opposite hitter position this season, had seven kills, hit .417 and had four blocks.
Jocelyn Urias and Ella Lajos, new to the Cougars front row starting spots in 2017, each had seven blocks today. Setters Ashley Brown and Penny Tusa each had 19 assists with the freshman Tusa serving two of WSU's three aces. Alexis Dirige led the match with a dozen digs.
WSU won the digs category 48 to 28, and equaled a season-best 14 team blocks while Fairfield had only two blocks. The Cougars hit .300 for the match and held the Stags to a .064 hitting percentage.